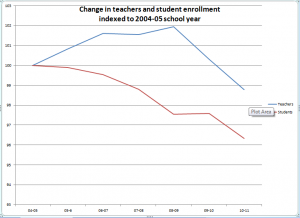 Jonathan Pelto had an interesting post over the weekend about unemployment in Connecticut. He criticizes the typically-reported unemployment rate and mentions the problems pointed to by other unemployment measures, something I have written about here and here.
Pelto goes on to write about how Connecticut has lost 16,000 government jobs (federal, state and local combined) since President Obama took office.
"This means that in just the last four years, there are 16,000 few jobs in schools and other government positions around the state," Pelto writes. "The fact is, Connecticut's children are returning to school in a couple of weeks with far few[er] teachers and support staff."
Although it is possible Pelto's fears might be true this time around, previous incarnations of this bogeyman have failed to materialize.
The recent decline in teaching jobs in Connecticut – 1.2 percent – has failed to keep up with the 3.7 percent decline in student enrollment between the 2004-05 school year and 2010-11, the most recent data available from the State Department of Education.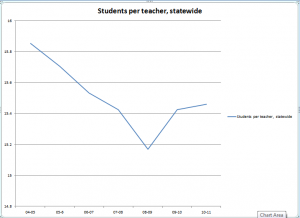 The number of students per teacher in Connecticut fell from 15.8 in 2004 to 15.2 in 2008, but has recently risen to 15.5.
According to the same data, the number of non-certified employees has grown while the student body got smaller. In 2004-05, there were 15.4 students per staff member. In the most recent year available, there were 14 students for each staff member.
Meanwhile, the number of students per administrator has fallen from about 188 to 172. The number of students per psychologist, counselor and social worker has also fallen from 195 to 178.