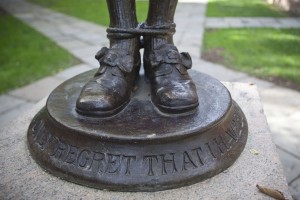 Connecticut experienced an uptick in unemployment last month, bringing it closer to the national average, but income statistics reveal other problems for the state.
One of the highest-cost-of-living states, with correspondingly high incomes, Connecticut saw wages fall more rapidly than the rest of the country at the end of last year.
Overall, Connecticut income for 2011 went up only slightly slower than the rest of the country.
National unemployment remains at 8.2 percent while Connecticut's rate rose to 8.1 percent.
While Connecticut did not suffer as deeply during the recession – unemployment always remained lower than the national rate – employment is growing faster in the rest of the country, causing the unemployment rates to converge.
Between December 2010 and December 2011, U.S. employment increased 1.4 percent, while employment in Connecticut increased .9 percent.
Some critics say the unemployment rate is not capturing the true measure of the recession because people without jobs who stop looking for one – called by economists discouraged workers – are not counted as unemployed. Instead they are considered to have left the workforce.
Last month, 1,200 people joined the workforce, according to state data. In May 5,300 people joined the workforce. These increases make up for the 5,900 people who left the Connecticut workforce between January and April.
Despite the recent upturn in workforce participation, there are still 1,900 fewer people in the workforce today than in January 2011.
"Part of the reason for the increase announced today is that more people are looking for work, which in and of itself is a good thing," Gov. Dannel Malloy said in a statement. "It means people are increasingly confident that there are good jobs available."
According to the federal Bureau of Labor Statistics, Connecticut weekly income fell 3.1 percent in the fourth quarter of 2011, while weekly income nationally fell by 1.7 percent.
Only two states saw incomes fall faster than Connecticut, Minnesota (3.9 percent) and Nevada (3.2).
Despite the greater decline, Connecticut still has significantly higher average weekly income ($1,188) than the national average ($955).
According to BLS, smaller bonus payments accounted for the drop in wages.
Fairfield County had the sixth-largest weekly-income decrease in dollar terms, $77, a drop of 4.6 percent. New Haven incomes fell by 3.2 percent, while Hartford county incomes fell by 2.5 percent. New London saw a .4 percent drop.
BLS doesn't report data for Connecticut's four other counties.
Despite the income drop, employment increased the most in Fairfield County (1.5 percent), followed by New Haven (1) and Hartford (.7). New London County saw a 1.1 percent drop in employment.