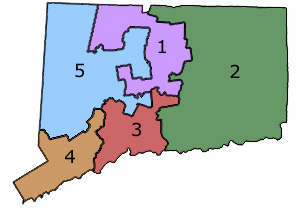 The U.S. Census Bureau released detailed data for Connecticut Wednesday launching the state's redistricting process.
The reapportionment committee has until Sept. 15, 2011, to get three plans – congressional, senate and house – passed by two-thirds of each house of the General Assembly. Failing that, a redistricting commission is formed.
In recent years, the process has been intense without being divisive.
According to Census data, the 2nd Congressional District grew faster than the other four. Legislators will need to remove 14,952 residents from its boundaries.
The 5th District is nearly just right, meaning it is a proxy for average growth across the state. Only 523 people need to be added.
The 3rd District needs 2,480 new residents and the 1st needs 3,868. The 4th District, the slowest grower, will need to expand to incorporate 8,079 additional residents.
Eight state legislators – four from each party – will guide the redistricting process.
Speaker of the House Chris Donovan, D-Meriden, chose Rep. Sandy Nafis, D-Newington, to serve with him on the committee. House Minority Leader Larry Cafero, R-Norwalk, chose Rep. Art O'Neill, R-Southbury. O'Neill served on the committee 10 years ago and is the only returning member.
Senate President Pro Tempore Donald Williams, D-Brooklyn, picked Majority Leader Martin Looney, D-New Haven. Senate Minority Leader John McKinney, R-Fairfield, will serve with Sen. Len Fasano, R-North Haven.
Donovan lives in the 5th District and is considering a run for the seat. O'Neill also lives in the 5th.
Fasano and Looney live in the 3rd District. McKinney and Cafero both live in the 4th. Nafis lives in the 1st and Williams in the 2nd.