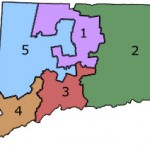 The Census Bureau announced its first batch of data Tuesday confirming Connecticut will retain its five seats in Congress, but due to population shifts and varied growth rates the state's political lines still need to be redrawn.
Eight legislators will dominate the redistricting process as members of the redistricting committee, provided for by the Connecticut Constitution. The members are appointed by legislative leaders, evenly split between the house and senate, Democrats and Republicans.
Members of the 2001 committee remember their task as intense and demanding, but also a fascinating project that fundamentally affects state government.
"I loved doing it, but it was tons of hours," said Department of Motor Vehicles Commissioner Robert Ward, of North Branford, who served as house minority leader in 2001.
"I love process," said East Hartford Mayor Melody Currey, a Democratic state representative. "I like to see how to make things work that are difficult to make work."
"It's very time consuming," said former Speaker of the House Moira Lyons, a Democrat from Stamford. "It's a very elongated process. You're there every day."
Lyons said the committee had to start over many times. "You may have thought this concept worked," she said, but then it doesn't work in the end. She compared the dead-end ideas to a puzzle with pieces that don't fit.
"I learned where everything was in the state, that's for sure," Lyons said, "all the little nuances of the state."
"I can drive throughout the state and find my way out of anyplace," Currey said.
Redistricting essentially happens three times: for Congress, the state house and the state senate.  "There are three plans," said Rep. Arthur O'Neill, R-Southbury.
The senators on the committee develop the senate plan, the representatives create the house plan and all eight members together create the plan for the congressional seats.
"I did not get in any significant way involved in the senate," Ward said.
Ward said he could negotiate in good faith with his counterparts, Lyons and Currey. He said he remembered Lyons coming to him after they had agreed on a plan. She told him she had new information and would like to make a small revision, but if he didn't agree for any reason, she would stick to the original agreement.
"There may be differences of opinion," Ward said. "Nobody's screaming at each other. Nobody's pounding their fist on the table."
"You get into discussions and disagreements and then you end up with compromises," said former Senate Minority Leader Louis DeLuca, R-Woodbury, who also served on the committee in 1991. "I don't think it was contentious either time."
Currey said she wants Democrats to control the legislature – "I'm a Democrat. That would be logical." – but her preference didn't interfere with the redistricting process because it is balanced by the other committee members and the factors they must consider.
"As a leader you want to protect the people you represent," Lyons said. "But you're doing it in the open."
"We'd laugh at their plan and they'd laugh at our plan," Ward said. "Then we'd start to get serious."
O'Neill said there is no way to sneak an advantage because all the committee members follow new developments, voting records, trends and closings.
"Everybody knew which towns mattered politically," O'Neill said. "There was relatively little in the way of surprises."
"We all have access to the same data and the same software," Ward said. "We might make different judgments."
Currey said the committee needs to decide how many districts there will be. "That has to be the first decision you make."
The current arrangement of 36 senators and 151 representatives dates back to 1972 when federal court cases from the 1960s first changed the way states redistrict their legislatures.
DeLuca said once  the number seats is set, the committee divides the total state population by the number of seats to determine the size of the model district. The committee also needs to agree on how much deviation it will allow, according to DeLuca.
In 2001, the committee allowed districts to vary by 5 percent above or below the population of the model district.
"You certainly didn't want to have it challenged in court," Currey said.
"You're always looking to your legal team," DeLuca said. "Are you going to get sued?"
Currey said the job can be thankless, too. She said she still hears – 10 years later – some legislators say, "That happened because you took that part of my district away from me."
Losing a seat in Congress
Because Connecticut grew slower than the rest of the country during the 1990s, the state had to reduce the number of congressional districts from six to five in 2001.
"I remember being in my office talking to the Congresspeople on the phone because they had to lose a district," Lyons said.
"In the end, we were the ones who were going to vote on it, even though it's their district," she said. "They should have some sense of how we're doing it."
The committee initially thought about eliminating the 2nd District, at the time held by Rep. Rob Simmons, a Republican. Then its plans shifted to combining the 5th District, home of Democratic Rep. James Maloney, and the 6th District, held by Republican Rep. Nancy Johnson.
O'Neill said the original thought was to eliminate the 2nd District because it had not grown as fast as the rest of the state. He said Democrats were not excited to eliminate the seat because it had just gone Republican for the first time since the 1970s. He said they believed it would revert to Democratic control once Simmons left office.  (In 2006, Democrat Joe Courtney defeated Simmons.)
According to O'Neill, Reps. Rosa DeLauro and John Larson both opposed eliminating the 2nd District as well. Simmons probably would have ended up in Rep. Rosa DeLauro's district, O'Neill said. "Why take that risk when you don't have to."
"The Republicans didn't want to do it because we didn't want to get rid of Rob Simmons," O'Neill said.
Ward said the committee saw the small towns of Eastern Connecticut as a community of interest and decided to keep them together.
Once the committee moved away from the 2nd District idea, the plan shifted to the western part of the state and combining the Democrat-held 5th District with one of the two neighboring Republican districts, the 4th or the 6th.
"Clearly, compromise says you're going to put a Republican and a Democrat together," Ward said.
Lyons said she can remember "very clearly" talking with the delegation about particular towns. "At least they had a chance to discuss it and to understand why it had to be the way it is," Lyons said.
O'Neill said Rep. Johnson, having said she didn't want to eliminate Simmons' district, was surprised that her own district fell victim.
O'Neill said once the committee agreed to combine the 5th and the 6th Districts, the new 5th District had to be the first to get its shape.
"None of these districts were really settled until all of them were settled," O'Neill said, explaining that there were "about 100 iterations of this plan."
According to O'Neill, the committee started one approach by assigning Democrats to find 300,000 residents for the new district from the old 5th, while Republicans found 300,000 from the old 6th.  He said the resulting plan was leaked to Johnson and Maloney, derailing it, but the eventual agreement closely resembled the initial attempt.
O'Neill said people raised a variety of reasons why certain towns should be together, real and imagined. He said there was an effort to convince the committee that "Danbury and Meriden really thought of themselves as one town" because Maloney, from Danbury, wanted Meriden in his district.
According to O'Neill, it would have made sense for Republicans to break off the part of New Britain where Johnson lived – separated from the rest of the city by a highway – and put the rest into the 1st District making a "heavily Democratic district into a much, much more heavily Democratic district." However, Johnson promised not to break up New Britain.
O'Neill said Johnson ended up winning New Britain in the next few elections anyway. He said he thinks the only way Republicans could win the current 5th District is with a candidate from New Britain.
"According to precinct data, Johnson's district voted Republican in 10 of the last 10 elections," O'Neill said.
"I remember Nancy Johnson calling me twice a day screaming and yelling," DeLuca said. "And then after she won, 'This is best district ever.'"
O'Neill said unpopular decisions in Washington caused a "landslide against an incumbent who was actually pretty popular" in a district that had not voted for a Democrat in 24 years, referring to Johnson's 2006 defeat by Democrat Chris Murphy.
The committee missed a constitutional deadline for redistricting the congressional seats, although it had finished the other two plans.
"That was the one that put us into overtime," O'Neill said. "We were struggling with how to put six people into five seats."
The missed deadline triggered the formation of a commission, made up of the same eight members and a ninth chosen by the eight. The members chose Nelson Brown, Republican speaker of the house in Connecticut from 1957-58. Brown, of Glastonbury, had served on the 1991 committee as the ninth man as well.
DeLuca said "it wasn't a problem" that Brown was a Republican. Currey, in a recent interview, couldn't remember whether Brown was a Democrat or Republican.
Once the commission was formed, the group had a final deadline to complete its work, otherwise the Connecticut Supreme Court would take over the process. O'Neill said Chief Justice William Sullivan gave the commission two extensions beyond that deadline because redistricting would have consumed the court to the detriment of its other responsibilities.
"It was either going to court or we were going to make an agreement," Currey said. "All of us wanted to be able to say we could do it."
"We can proudly say it was never challenged," Currey said, "so it withstood the test of time."
Redrawing the lines for the General Assembly
Ward said the first part of the negotiations is to look at what areas lost and gained population. He said in 2001 urban centers lost population and suburbs beyond the first tier gained population.
Ward said four districts moved. They shifted from Bridgeport to New Canaan/Wilton; Hartford to Danbury; New Britain to Old Saybrook and Hamden/New Haven to Hamden/Cheshire.
Ward said the committee decided not to renumber all the districts. The districts that moved can still be readily identified because their numbering doesn't match neighboring districts.
"Population is the top priority," O'Neill said, but for state legislative districts other factors are weighed, too. He said the committee tries to preserve "various kinds of communities of interest – things that have always kind of gone together."
He said these can include a common school district, a shared shopping mall, economic or transportation connections or racial and ethnic considerations.
Currey said a local official once told her not to put two towns together because they were fighting over a road. She said she also remembered putting two together because they shared a Grange.
O'Neill said the committee can also consider where incumbents live. He said many legislators provide the committee with "wish lists" of streets or neighborhoods they want moved into or out of their district.
"What could we agree on initially? We did the easy ones first and the more difficult ones last," Currey said.
Ward said he recalled learning that a group of religious sisters were praying that a certain representative would continue to represent them. He said with three of four house negotiators raised as Catholics, it was hard to go against them. Ward said he remembered the intercession of the sisters as "both humorous and kind of touching."
Currey said the committee had wanted to put Berlin and Cromwell together, but wasn't sure the decision was justified until she saw a sign on I-91 advertising an exit for both towns.
Ward said the committee had to start in corners of the state. For example, in Stonington "you can only move in two directions," he said, because of its border with Rhode Island and the Long Island Sound.
DeLuca said there would be a problem if a district came up short in the corner. "You can't annex something from Rhode Island or New York to make it up."
Currey said the state house is "more Democratic than it should have been based on just the redistricting."
"I think it was fair," she said. "I think it took an honest look at the state and kept as many towns whole as possible. And balanced the politics of it."
Tuesday, Dec. 21, Part I: The nuts and bolts of redistricting
Thursday, Dec. 23, Part III: What to expect in 2011