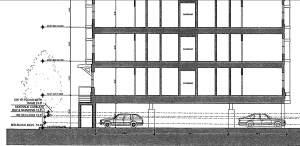 Two years ago, Superstorm Sandy flooded first-floor apartments at Washington Village in Norwalk. Now state and local officials are seeking to expand the project in the same flood-prone location using millions in state and federal taxpayer money, including $9.8 million designated for the Sandy cleanup, but they need approval from environmental regulators first.
The new development would include about 273 units at a cost of at least $85 million, meaning each unit will cost more than $300,000 to construct. In all the developer, Boston-based Trinity Financial, will receive $43 million in state and federal support.
Half of the new units will be considered public housing, targeted at a family of four earning less than $38,500. Another quarter is considered workforce housing, for family incomes between about $64,000 and $70,000. The remaining units will rent at market rates.
Some Norwalk residents have criticized city officials and the developer for building in the floodplain.
After Sandy struck, the Norwalk Hour reported on the damage:
Flood waters damaged dozens of first floor units at the Washington Village housing complex. Residents used hoses to remove an inch or more of water from their living areas. Norwalk Housing Authority employees helped residents clear the excess water from their living spaces and discard of soggy couches and ruined rugs.
There was flooding the area after heavy rain last week.
The Department of Energy and Environmental Protection will hold a public hearing on the flood management exemption for Washington Village 6 p.m., Monday, Dec. 15, at the South Norwalk Community Center. DEEP will accept written testimony until close of business on Dec. 18.
Trinity will build all of the first-floor units above the level reached by the worst flood scenario considered in the application. However, 198 parking spaces will be under the building.
One drawing included in the application shows how high up on a car floodwaters in the parking garage would rise. In one building, the worst-case flood – "a 500-year flood with wave" – would leave some cars completely submerged. A 100-year flood would rise up to the bottom of the windshield.
The flood contingency plan calls for the building manager to ask residents to move their cars to higher ground before a storm.
After Superstorm Sandy, the Hour reported that a Washington Village resident "who refused to give his name, said he was given ample warning to move his car, but he did not think the flooding would be that bad."
The plan also calls for raising the intersection of Raymond and Day Streets above expected flood levels and building a raised pathway through nearby Ryan Park so that emergency vehicles could reach the development if the streets get washed out.
Patrick Lee, a co-founder and executive vice president of Trinity, gave $7,500 to the Connecticut Democratic Party's federal account since 2013. State law would prohibit Lee, as a beneficiary of state funding, from making donations to candidates for state office or to the state party's account to benefit those candidates. However, recipients of state funding and state contractors can give to the same party's federal account.