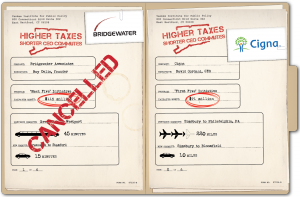 The First Five, Connecticut's signature economic development program under Gov. Dannel Malloy, prompted five CEOs to move their companies. In return, they got taxpayer funding – and a shorter commute to work.
Last month, a plan to move the hedge fund Bridgewater Associates, one of the world's largest, from Westport to Stamford at a cost of $115 million in taxpayer money fell through.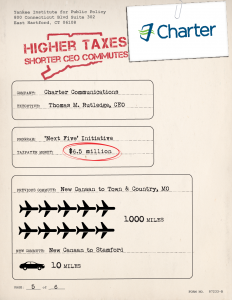 The move would have reduced the commute for its billionaire founder Ray Dalio by two thirds. Instead of driving about 45 minutes from Greenwich to Westport, Dalio would drive only 15 minutes to Stamford, according to estimates based on Google Maps.
In some cases, the move was drastic. Charter Communications moved its headquarters from Town & Country, Four other First Five/Next Five deals still in place will move the company headquarters and keep the same CEO. In each case, the office moved closer to the CEO.
Missouri, to Stamford. For CEO Thomas Rutledge, who already lived in New Canaan, the new location is 990 miles closer to his home.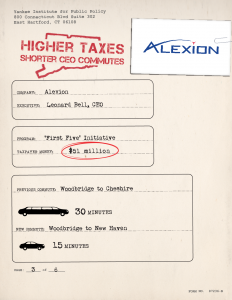 Charter will receive $6.5 million in taxpayer support.
"Our CEO has had an office here and in Philadelphia for years, and still does," said company spokesman Joe Mondy. "Cigna has offices in 30 nations and jurisdictions around the globe. Our decision to designate our flagship Connecticut offices as our corporate headquarters is all about the opportunity to leverage the highly educated, experienced and talented labor pool our state offers, so that our businesses may grow and flourish here and around the world."Cigna CEO David Cordani saved himself some travel time by moving the company's headquarters from Philadelphia to Bloomfield. Cordani's Simsbury home is about 210 miles closer to the Connecticut site.
Cigna could receive up to $71 million from taxpayers.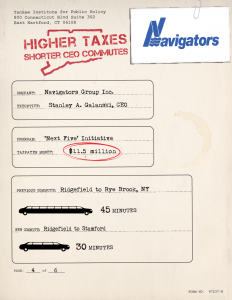 Spokesmen for Malloy's office and the Department of Economic and Community Development, which coordinates First Five incentives, did not respond to a request for comment.
The pharmaceutical company Alexion plans to move from Cheshire to New Haven next year in return for $51 million in state assistance. CEO Leonard Bell will cut his commute from Woodbridge in half, from about 30 minutes to 15.
The insurer Navigators Group will receive $11.5 million to move from Rye Brook, N.Y., to Stamford. CEO Stanley Galanski will reduce his commute by a third, shaving about 15 minutes off his commute from Ridgefield.
CEOs in the First Five/Next Five program aren't the only ones shortening their commutes. Fifth Street Finance received a $5 million forgivable loan from DECD to move from White Plains, N.Y., to Greenwich.
CEO Leonard Tannenbaum cut his commute from Greenwich in half, from about 30 minutes to 15. Fifth Street spokesman James Velgot said the shorter commute was unrelated to Fifth Street's move.
"Len believes in the state, and wants to help it succeed in the long run," Velgot said.
Another company, Sustainable Building Systems, was planned as a new joint venture so it did not have a previous location. In any case, the company has had trouble getting started. TicketNetwork withdrew from the First Five program after its CEO was arrested.Some companies in the First Five/Next Five program, like ESPN and Pitney Bowes, did not relocate, instead expanding in an existing location. Other companies changed CEOs around the time of the move, including NBC Sports and CareCentrix. The accounting firm Deloitte did not move its headquarters to Connecticut, but did expand its presence.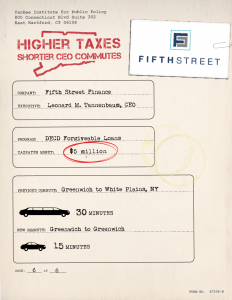 The Bridgewater move fell apart because of a land use dispute between the project developer, Building and Land Technology, and city officials. Even though the deal fell through, BLT still gets at least $16 million from the state – as much as $2.50 for each $1 invested – to complete the environmental remediation of the property.
Graphics by Colby Pastre.