Last Saturday a group of local college students known as the Wesleyan Young Advocates teamed up with the Middletown Community Health Center to honor the CEO of Access Health CT, the state's Affordable Care Act portal, Kevin Counihan.
Flyers distributed by the studen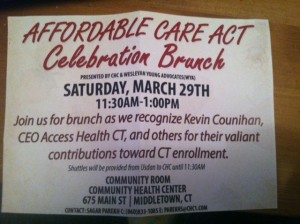 t group (pictured left) espoused Counihan and his underlings at Access Health CT for their "valiant contributions toward CT enrollment."
Apparently the standard for what would constitute a valorous act has been lowered or is at least being misinterpreted by the WYA, who since September has been working to get Middletonians enrolled in the state healthcare exchange. I mean c'mon, does enrolling people in crummy government experiment that only 40% of people agree with really constitute an act of valor?
What surely was left unmentioned at this Left Wing love fest was the valor and courage it took to spend $79,000 on three pieces of artwork. Last December Raising Hale reported that Access Health CT, who is entrusted with the responsible management of private information on every enrollee, very responsibly used taxpayer dollars to have artwork commissioned and installed at various offices. Don't worry though; Lt. Gov. Nancy Wyman assures us that this is "a creative way for us to express that commitment to building healthier communities."
Connecticut officials have boasted about the successes they have achieved enrolling people into the government controlled insurance marketplace in comparison with other state run exchanges. The Access Health CT exchange was also one of the first to reach completion, which of course is no surprise coming from a state that conceits to the President's every wish.  
Meanwhile this week as millions instantly qualified for the Obamacare IRS penalty (supposedly), the President self-proclaimed the debate on repealing the healthcare law to be officially over. The achievement of the deadline enrollment goal of 7 million people apparently gives the president and the Left veto power over any argument concerning the successes or failures of Obamacare.
However what has not been reported by the administration is the amount of people that have actually paid for any of these healthcare purchases, the amount people who actually received healthcare for the first time or the amount of people that were forced off their existing coverage. Not to mention whether or not a sufficient amount of young "invincibles," who are expected to shoulder the burden of healthcare costs, have enrolled to offset enrollees who will be totally subsidized.  
I guess when expectations for success are lowered to whether or not a multi-million dollar website actually functions one can easily be impressed.
Andrew is a Political Science Major at CCSU and a veteran of the USMC.