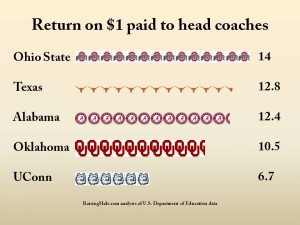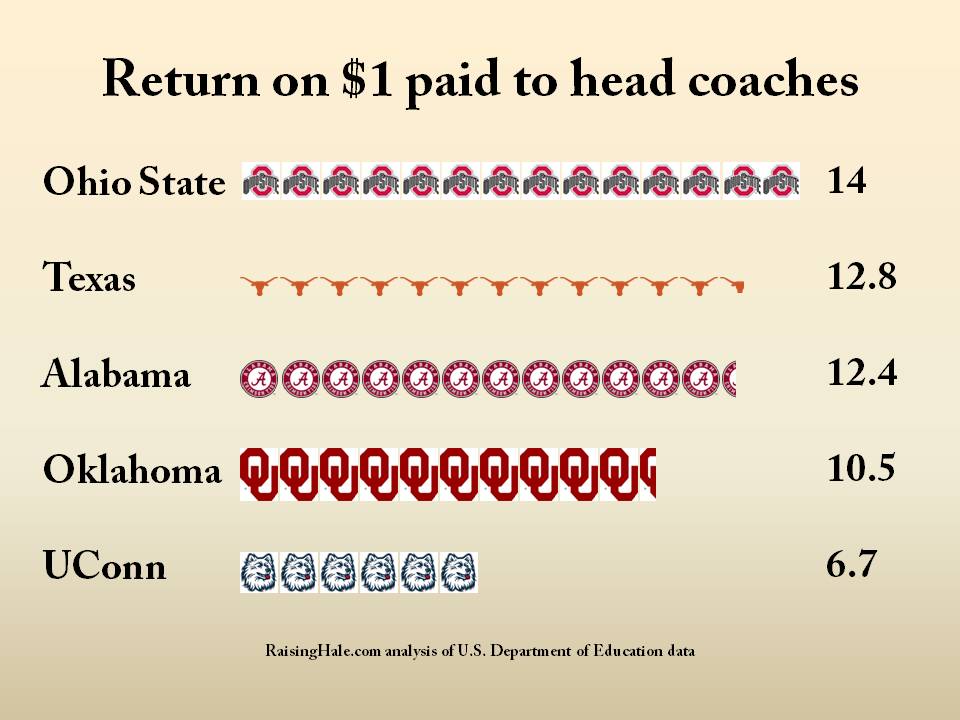 Look at the evidence.
The University of Connecticut's women's basketball team just won its eighth NCAA championship. The men's basketball team won the NCAA tournament two years ago. In 2011, the football team played in the Fiesta Bowl, part of the Bowl Championship Series.
UConn's athletic program has undoubtedly earned its national reputation on the court and the field.
This success, however, is not as clear-cut on the financial side, according to an analysis of federal data on 124 four-year Division 1-A colleges and universities. (The top 20 data is here.)
UConn ranked 47th for sports revenue, but paid its head coaches – as a group, for all sports – more than all but four other universities.
In 2012, UConn paid its 20 head coaches a total of $9.5 million while its sports teams brought in a combined $63.8 million in revenue.
Mike Enright, spokesman for UConn athletics, cautioned against comparing total revenue in the federal data because UConn only counts privately-raised money when it is spent, not when it is received.
According to the UConn Foundation, donations to support the athletic department last year totaled $21.8 million.
If the donations from last year were added to UConn's revenue total, it would rank 20th for revenue. This approach may be double-counting some UConn revenues while it also ignores that other schools could account for fundraising the same way.
The federal data does not include salaries for specific head coaches. On average, a full-time UConn head coach earns $527,000.
UConn's average salary for head coaches ranks 17th because it has more coaches than many other high-paying schools.
The high pay of top tier – and very successful – coaches like Jim Calhoun ($2.7 million), Geno Auriemma ($1.8 million) and Paul Pasqualoni ($1.6 million) inflates the average.
Excluding the three high salaries, the average salary for a full-time UConn head coach is $226,000.
Auriemma signed a new five-year contract in March for $10.8 million, a $560,000 per year increase over his last contract.
Calhoun, now retired, served as special assistant to the director of athletics until last month. He is now head coach emeritus.
In 2009, Calhoun got into a shouting match with Ken Krayeske, a journalist and former candidate for Congress, about his salary.
"Not a dime back," Calhoun said at the time, according to the Courant. "Quite frankly, we bring in $12 million to the university, nothing to do with state funds," Calhoun said. "We make $12 million a year for this university. Get some facts and come back and see me!"
Calhoun's characterization accurately reflects the federal data. UConn head coaches bring in about $6.70 in revenue for every $1 they receive in pay.
However, other top-paying schools get a much better financial return on their investment, nearly twice UConn's rate.
The four universities that pay out more to coaches than UConn are the University of Texas, $12.8 million, the University of Oklahoma and Ohio State University, $10.1 million each, and the University of Alabama, $9.9 million.
Ohio State's coaches generate $14 in revenue for each dollar in pay. Texas and Alabama get more than $12 for each dollar paid to coaches. Oklahoma earns $10.50 on each dollar spent on head coaching.
The other top 20 schools for head coach pay are much larger as measured by athletic revenues, with only private Vanderbilt bringing in less than UConn. Top-ranked Texas dwarfs UConn, bringing in $100 million more than UConn's $63.8 million.
UConn's financial return on pay to its head coaches ranks 121st out of the 124 Division 1-A schools included in the federal data. This ranking puts it near schools like Vanderbilt, the University of New Mexico and the University of New Orleans.
The Universities of Notre Dame, Tennessee and Michigan would have to double their coaching salaries to reach the same ratio.