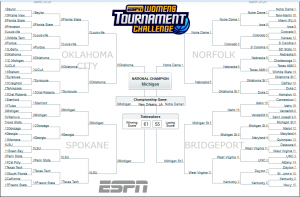 If financial success can predict the outcome of college basketball games, the University of Michigan will win both NCAA basketball tournaments, despite getting seeded fourth (men) and eighth (women).
I completed a NCAA tournament bracket – provided by ESPN – based on an analysis of federal filings from each of the 64* teams in the tournament this year. First, I compared teams based on the size of their sports surplus, the revenue from all sports minus the cost of running all sports programs. Second, I compared teams with equal surpluses (34 programs break even) based on the amount of revenue they generate.
A few caveats. This data is only as good as what the schools tell the federal government and some schools may interpret the instructions (75 pages here) differently.
Although it is possible to compare schools based on the finances of individual sports, this data has even more caveats. The best example is apparel. When someone buys a Wolverines hat, is that football or basketball revenue? Or what about rowing?
I don't
know what to expect from this bracket, but it should be fun to watch. Follow along with my Final Fortune bracket here. (Feel free to check my work here.)
Because my analysis prioritizes surplus over revenue, the UConn women lose in the first round to Idaho, which generates a small surplus ($213,066) on $17.6 million in revenue. UConn brought in $63.8 million in revenue, but broke even like half of the schools in the tournament.
More on the men's tournament here.
*Data on the Naval Academy do not appear to be available.