Last week I had the pleasure of attending the 40th annual Conservative Political Action Conference in National Harbor Maryland.
The three day event hosted by the American Conservative Union provides an annual forum for the sharing and spreading of ideas from all over the Conservative and Republican spectrum. Friends believe me when I say that being around so many like minded young people was like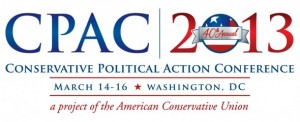 taking that first breath of air after a long underwater submersion.
The event kicked off with a resonating speech from former Congressman Allen West and it was all uphill from there. A litany of big name speakers from perennial Sarah Palin to newcomer Dr. Ben Carson filled the grand ball room with ideologies and hope for the future, while topic panels presented pragmatic solutions toward problems facing the Republican Party and the Nation.
The emphasis on the next generation of leaders was palpable when Connecticut's own state representative Art Linares demanded this of the youth:
"We must step up, must get involved in our towns, counties and states. If we want our voices to truly be heard we have to win elections and we can't win if you don't run."
Linares, a first term Representative from the 33rd district, addressed the grand ballroom and was introduced as one of the top 10 Conservatives under 40.
Straw poll results put Rand Paul as the front runner for the 2016 Republican Presidential Nominee, narrowly beating Marco Rubio. This is not particularly surprising considering the majority of voters were college students who tend to lean toward Libertarians.
Dr. Ben Carson, little known until his remarks at the National Prayer Breakfast, spoke to a packed grand ballroom and was given more stage time than even Rubio or Paul. His book signing line outstretched heavyweights like Gingrich, Jeb Bush and Ann Coulter. Dr. Carson's announcement that he is retiring from medicine sent up red flags and when asked if he would enter the political arena, Dr. Carson stated that he would remain focused on education, "but who knows what will happen."
If the rhetoric during the day wasn't enough motivate a conservative from a deep blue state, the atmosphere in the bars at night reaffirmed my belief in the future of our country. After the day's lineup, hundreds of Twenty Somethings flooded the town's bars to attend happy hours sponsored by HotAir.com, Leadership Institute and the like, while exchanging ideas on immigration, defense and balanced budgets. Only at CPAC would one find a bunch of strangers singing along to "Proud to be an American" with such fervor and embrace.
When the speakers had made their last remarks and bars their last call, the one obvious thing that could be taken away from the weekend was the wide range of diverse ideas found within the conservative movement.
The fact that like minded politicians, scholars, pundits, and consultants can sit down and firmly disagree with each other on a variety of issues proves that Republicans are not a party of ignorant, closed minded drones.  Republicans truly are the party of ideas, contrary to those on Left who when Obama says jump, they ask how high.