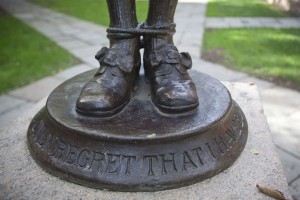 The nursing home company facing strikes at five of its Connecticut locations formally asked the state's top prosecutor to investigate allegations union workers committed sabotage shortly before their strike began.
Maureen Weaver, an attorney with Wiggin and Dana who represents nursing home company HealthBridge Management, wrote the letter to Chief State's Attorney Kevin Kane:
These incidents occurred in the hours leading up to the ongoing strike by the New England Health Care Employees Union, District 1199 at HealthBridge facilities in Danbury, Newington and Stamford. The acts of vandalism and sabotage included, but were not limited to: removing wrist bands from over 30 residents; changing names on patient doors and wheelchairs; switching the names of residents in the memory care unit; removing stickers indicating how residents can be fed safely; tampering with medication records and removing handles from hoyer lifts. The perpetrators carried out various other acts such as hiding blood pressure cuffs and stethoscopes and damage to facility property. I have enclosed with this letter a more detailed outline of the incidents that HealthBridge documented by facility.

These acts of vandalism and sabotage posed a serious threat to the health and safety of the frail elderly residents of the HealthBridge facilities. The perpetrators put residents at severe risk of receiving the wrong medications, improper medications, or food they should not eat. Fortunately, facility administrators discovered these issues soon enough to avert any injuries and promptly reported the incidents to state and local authorities, including the Connecticut Department of Public Health, the Attorney General's Office, which was advising the Department on its oversight of patient care during the strike, and local police departments.

…

In short, we would appreciate the efforts of your office in investigating HealthBridge's complaint to the fullest extent.
"We don't comment on matters that may or may not be under investigation," said Mark Dupuis, spokesman for the Division of Criminal Justice.
HealthBridge previously asked for Attorney General George Jepsen's assistance. Jepsen later recused himself from matters related to the strike because he joined union members on the picket line.