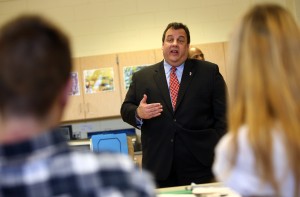 Connecticut's teachers unions have been effective at organizing opposition to speak at Gov. Dannel Malloy's town halls on education reform.
As Brian Lockhart reports from New Haven, "And while there were rows filled with supporters, the governor spent the hour being heckled by, and attempting to be heard over interruptions from, angry teachers who filled at least one side of the chamber."
But how much will the unions spend? In New Jersey, Malloy's archenemy Gov. Chris Christie took almost $11 million in flack from the teachers unions in opposition to his proposals.
According to the Philadelphia Inquirer, the campaign against Christie included "TV ads, radio spots, and a plane that flew up and down the Jersey Shore proclaiming Christie's love for millionaires."
It will be interesting to see what kind of opposition turns out for Michelle Rhee's appearance 3 p.m. today at the Capitol. Rhee is the closest thing the unions have to a bogey-man, er, -woman.