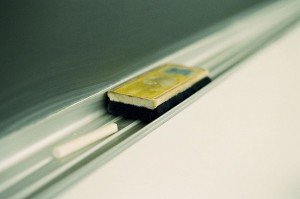 In 2005, Bridgeport hired a special education teacher.
After one year, she left Bridgeport to teach in another school district.
After a year in that school district, she left to teach in another school district.
In 2008, she quit for "personal reasons" only to take another teaching job in another district.
In 2009, she was terminated.
"We call that the dance of the lemons," said Paul Peterson, Henry Lee Shattuck Professor of Government and director of the Program on Education Policy and Governance at Harvard University.
"That's not unique to Connecticut," Peterson said. "Principals know all about them."
"Let me make it clear that our plans aim to help principals and teachers with appropriate professional development and other support," said Robert Rader, executive director of the Connecticut Association of Boards of Education.
Rader said the state is considering policy changes that will provide additional support for teachers
"We aim to help principals get out of their offices and have the opportunity to do multiple, often informal observations, with lots of feedback for teachers," Rader said. "The evaluation guidelines do not envision just one test to evaluate teachers."
A small group of teachers first hired in 2005 bounced from employer to employer over the next five years, according to state Department of Education data.
There are a number of potential explanations for why teachers might have multiple jobs in a short period of time, but some circumstances show signs of teachers who are not successful moving from district to district.
Because these teachers did not stay in one place for five years, they did not obtain tenure.
The data collected by the state is anonymous, which limited the ability to speak with these teachers to hear their side of the story.
These stories make up a small fraction of the nearly 3,000 teachers hired in 2005, many of whom have gone on to successful careers.
Another Bridgeport special education teacher left the job after a year to move out of state, but then resigned from two consecutive teaching jobs.
One teacher started in East Hampton teaching science, but resigned in 2006 after a year of teaching. She resigned again in 2008 and again in 2009 without giving a reason.
A band teacher who started in New Haven in 2005 left at the end of the school year to teach in a new district. He left his second teaching job after only a year and resigned from his third after only a year on the job, too. In 2009, he resigned from his fourth position without giving a reason.
Another New Haven teacher quit three jobs in five years. A Hamden Spanish teacher left three jobs in four years.
A science teacher for the Connecticut Technical High School System left three teaching jobs in three years.
One elementary school teacher left New London to take another teaching job, resigned two years later and then was fired for losing her certification.
Thomas Mooney, a partner at Shipman & Goodwin who literally wrote the book on Connecticut education law, said a teacher who isn't effective can go on to succeed in another setting.
He said a new position "can be the difference between failure and success."
David Calchera, director of public policy for the Connecticut Association of Public School Superintendants, said many schools "quietly counsel people into other occupations."
"The system then creates an opportunity for a teacher to move from district to district and not perform," Calchera said.
He said there is a possibility such a teacher could "land in a district that's not as vigilant."
Peterson said getting ineffective employees to resign is common in education, as it is in the private sector. He said principals should remember the maxim "buyer beware."
"If somebody is moving from position to position, you want to be careful before you hire them," Peterson said. "Most people think the onus is on the new employer."
"This whole effort is not about bashing teachers," Rader said.
He said it appears that some people writing on this subject don't understand that quality teachers are "a very critical part of learning for students."
"It is not the sole answer to our achievement gap, but it is a part of the solution," he said.
"At the same time, we have at least as big an obligation to taxpayers, parents and most of all, students, to ensure that there are high quality teachers in every classroom," Rader said. "We believe the guidelines, together with an understanding that tenure needs to be changed, balances the two competing interests."
Part 1: Malloy wants to change policies that keep teachers in place
Part 2: Most Conn. school districts didn't fire any certified teachers over 6-year period
Part 3: Most Connecticut teachers get tenure