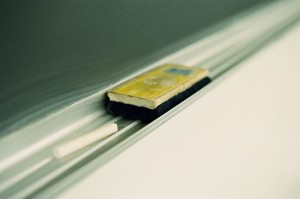 Ninety-three Connecticut school districts did not fire a certified teacher between Fall 2004 and Summer 2010, according to a review of state Department of Education data, including 20 of the 50 largest districts.
Danbury (12th), Manchester (16th), East Hartford (17th) Wallingford (18th), and Southington (19th) were the five largest districts that didn't fire any certified teachers. They each employ roughly 500 to 700 teachers.
Academic research has shown the worst teachers have a long-term impact on students.
A December 2011 study found an ineffective teacher can cost a class of students more than $250,000 in lost future income, as reported by the New York Times. "If you leave a low value-added teacher in your school for 10 years, rather than replacing him with an average teacher, you are hypothetically talking about $2.5 million in lost income," Harvard Prof. John Friedman, a co-author of the research, told the Times.
David Calchera, director of public policy for the Connecticut Association of Public School Superintendants, said some districts "quietly counsel people into other occupations" as an alternative to firing them.
"Absolutely. And that is a common practice in industry, too," said Paul Peterson, Henry Lee Shattuck Professor of Government and director of the Program on Education Policy and Governance at Harvard University.
Thomas Mooney, a partner at Shipman & Goodwin who literally wrote the book on Connecticut education law, said new legislation proposed by Gov. Dannel Malloy will reduce the time it takes to fire a teacher to 30 days, down from six months to a year.
Sixty-eight Connecticut districts didn't fire any teachers – certified or uncertified – over the six-year period.
Eighty school districts – including all 10 of the largest districts by number of teachers employed – "terminated" at least one teacher over the six-year period, according to state data.
Larger districts were more likely to have fired a teacher, as would be expected.
In addition, 21 small districts had no teachers leave for any reason over the six-year period. They were not included in this analysis. Twenty-two school districts that didn't fire any certified teachers had at least one teacher leave for an unknown reason, according to state data.
Part 1: Malloy wants to change policies that keep teachers in place
Part 3: Most Connecticut teachers get tenure
Part 4: 'Dance of the lemons' affects Connecticut students