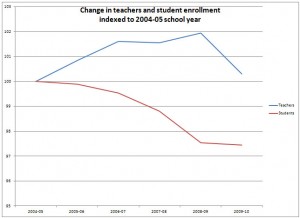 The American Jobs Act – a $447 billion combination of tax cuts and government spending championed by President Barack Obama – will fund 3,800 teaching jobs in Connecticut at an average cost of more than $88,000.
The one-time infusion of $336 million will temporarily help school districts rehire laid off teachers or avoid laying them off altogether. Local governments will be responsible for paying salaries after one year of federal assistance.
During the 2008-09 school year, when the nationwide financial crisis struck, Connecticut school districts laid off 369 teachers, according to State Department of Education data.
The department collects data from school districts on why teachers leave each district. The 369 teachers include 180 layoffs because of budget reductions, 184 because of eliminated positions and five other full-time equivalent reductions.
In 2009-10, school districts laid off 197 teachers. SDE has not published data on the 2010-11 school year yet.
Over the past six years, ending with the 2009-10 school year, 1157 Connecticut teachers have been laid off – or an average of 200 per year.
Despite the layoffs, the number of public school teachers employed in Connecticut has grown by 109 since 2004.
Over the same period, enrollment in Connecticut schools has been falling. From its 2004-05 school year peak at 577,398, enrollment in public schools fell to 562,659 in the 2009-10 school year.
At peak enrollment, Connecticut public schools employed the equivalent of 36,421 full-time teachers. After the recession-induced layoffs, last year there were still more teachers employed despite reduced enrollments.
In 2010, 109 extra teachers taught 14,739 fewer students.
State data show that average class sizes in Connecticut have also stayed the same or fallen since 2005 in all but one category. Kindergarten classes had the same average size in 2010 while fifth-grade, seventh-grade and high school classes got slightly smaller. The average size of second-grade classes rose from 19.5 to 19.7 students.
SDE data also show that school districts did not cut other positions instead of teachers.  There are additional employees in five other categories:
2,750 non-certified staff
450 instructional specialists
171 special education staff
142 administrators
74 school psychologists and counselors
There was a 191-position decrease in the number of "unlisted non-teaching assignments."
Overall school staffing in Connecticut rose by about 3,500 while enrollments fell by almost 15,000 students.
A North Carolina blog reported that the jobs bill will fund enough education jobs across the country to rehire each laid off teacher twice.