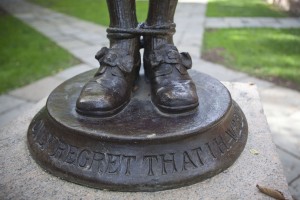 Money magazine just ranked four Connecticut cities in the top 100 to live in nationwide. The four winning cities – Greenwich, Hamden, Fairfield and West Hartford – are nice suburban towns and have down well in previous Money rankings.
While Connecticut has some of the best towns according to Money, it has some of the worst cities for minorities according to the Urban Institute's MetroTrends project.
The Urban Institute, a liberal think tank, ranked the 100 most populous metro areas on racial equity for African Americans and Latinos, with stark results for Connecticut.
African Americans
Hartford received the best rank of Connecticut's three metro areas for African-American equity, although it fell in the bottom quarter nationwide with a D grade.
Hartford's overall rank of 76th is made up of residential segregation (D), neighborhood income gap (F), test score gap (D), employment gap (C) and homeownership gap (C).
An A grade means a city falls in the top 20 on a certain measure. A B means the second 20 and so on until F, which means bottom 20.
New Haven-Milford ranked 86th, or the 15th worst metro area for African-American equity, with an F grade. The Urban Institute scored it this way:
Residential segregation – D
Neighborhood income gap – D
School test score gap – F
Employment gap – B
Homeownership gap – F
The Bridgeport-Stamford-Norwalk metro area was the sixth-worst with the following grades:
Overall – F
Residential segregation – F
Neighborhood income gap – F
School test score gap – F
Employment gap – A
Homeownership gap – D
Latinos
All three Connecticut metro areas fell into the bottom 10 for Latino equity.
New Haven-Milford came in 10th with straight Fs.
Bridgeport-Stamford-Norwalk was fifth-worst, but managed to get a B in employment gap.
Hartford came in second-to-last, beating only its neighbor to the north, Springfield, Mass.