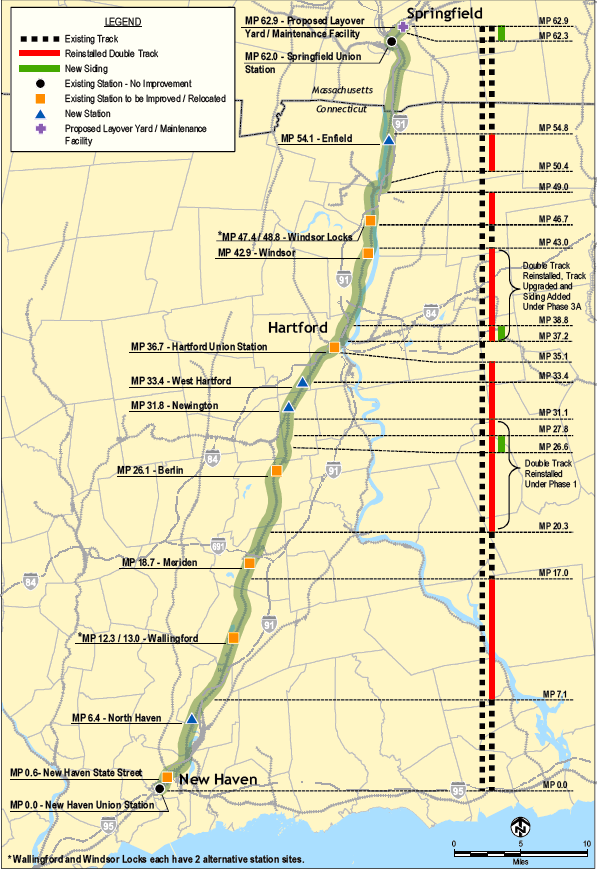 Connecticut's $647 million plan to connect New Haven and Springfield by rail will move ahead next year despite a $238 million gap in funding.
The system is geared toward providing commuters high-speed service. The Department of Transportation's plan is to start construction next year and launch service in 2016.
In all, the federal government is expected to pay $221 million and the state $188 million, leaving a funding gap for more than one third of the project.
The state has no significant funding for the track from Windsor to Springfield or for future rail upgrades and repairs.
These costs estimates don't include expenses for the final two phases of the five-phase venture. The last two phases will build stations and make other necessary improvements.
According to the DOT, federal and state funding are guaranteed for phases one and two, and state funding is "available" for phase three.
There are no cost estimates available for phases four and five.
John Bernick, DOT project manager for the New Haven to Springfield line, said Massachusetts is not contributing to Connecticut's current construction program except for a fiber optic cable that will run from Springfield to New Haven.
DOT plans to build track in the middle of the line and work its way out, with funds available estimated to cover New Haven to Windsor.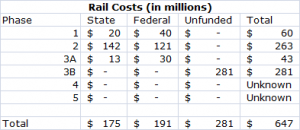 Phase one, from Meriden to Newington, is projected to cost $60 million, with two-thirds of the money expected from the federal government and the remaining third from the state.
The remaining portion of the rail from New Haven to Hartford is phase two, projected to cost $263 million.
DOT estimates the third phase will cost $324 million. The state requested the federal government contribute 70 percent to this phase, but was rewarded 9 percent, or $30 million, causing a gap in the funds.
Phases four and five would include building the four new stations in North Haven, Newington, West Hartford and Enfield, as well as adding a platform to the State Street Station.
These last phases also include buying new train equipment, repairing viaducts and bridges and other upgrades. The state is seeking additional funding from Washington for these phases.
DOT projects there will be 1.26 million rides every year on the new rail line, the equivalent of one out of every 1,000 Connecticut residents commuting on it.
Caitlin Landers is a journalism intern at the Yankee Institute. She is a rising junior at Syracuse University studying broadcast digital journalism and international relations.  She lives in Manchester.