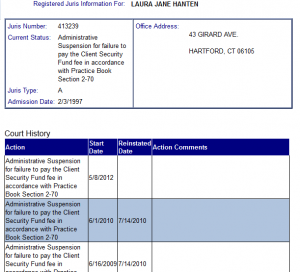 The Statewide Grievance Committee, the agency that regulates lawyers in Connecticut, has suspended the law license of Laura Jordan, special counsel to Speaker of the House Chris Donovan, for failing to pay a small fee.
Although she earned $132,242 from the state in 2011, Jordan failed to pay the $110 Client Security Fund fee causing the committee to put her license to practice law into administrative suspension, according to an online search of the committee's records.
Her suspension began May 8, a day before the legislative session ended.
According to the Register-Citizen, Jordan has "been using up accrued days off since the legislative session ended."
In 2009 and 2010, Jordan suffered suspensions for the same reason, lasting from June until July.
Jordan is registered to practice law under her maiden name, Laura Jane Hanten.
"Sorry, I do not know anything about this issue," said Jim Tracy, personnel administrator for the Office of Legislative Management.
A spokesman for Donovan did not immediately respond to requests for comment.
Jordan recently attracted public attention for declining to cooperate with the internal investigation done by Donovan's campaign after the Federal Bureau of Investigation arrested the campaign's finance director for disguising the source of campaign contributions.
The Federal Bureau of Investigation made seven more arrests Thursday.
Jordan reportedly had a relationship and shared an address with former Donovan aide and campaign manager Josh Nassi.