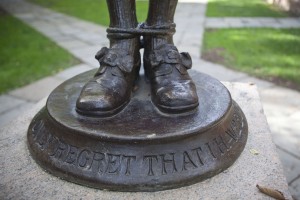 State officials will not release the arbitration decisions that caused the reinstatement of dozens of fired employees who were accused of improperly receiving special disaster food stamp benefits.
Office of Policy and Management Director of Legal Affairs Gareth Bye wrote a letter denying a Freedom of Information Act request for the decisions because the identities of food stamp applicants are protected by law.
Dozens of state workers applied for the benefits, prompting a statewide investigation which was announced by Gov. Dannel Malloy.
Reportedly, as many as 80 state employees who lost their jobs after the investigation were reinstated by an arbitrator.
Although the arbitrator reinstated the employees, they will face some penalties.
Andrew McDonald, Malloy's general counsel, said the arbitrator agreed with the state's position that the employees are "guilty of substantial misconduct."
"The arbitrator has also agreed that the state employees' misconduct merits significant sanctions, imposing severe economic punishments of up to 12 weeks of lost wages," McDonald said. "While some of these employees still have their jobs, they have forfeited almost 25 percent of their salary."
Bye said state law prohibits anyone from disclosing information about applicants or recipients of food stamps.
"While under most circumstances, documents concerning a state employee's termination or other discipline are considered public records for the purpose of the FOIA, the FOIA does not categorically require or permit the disclosure of all records," Bye said. "Rather, the FOIA provides for access to public records 'except as otherwise provided by federal or state law."
State law says no one shall "solicit, disclose, receive or make use of, or authorize, knowingly permit, participate in or acquiesce in the use of, any list of the names of, or any information concerning, persons applying for or receiving assistance"
"The responsive documents contain information directly concerning persons applying for and receiving assistance from DSS," Bye said. "Moreover, no amount of redacting of the decisions in the possession of the Office of Labor Relations would get around the strict statutory prohibition against releasing any information concerning persons applying to this DSS program."