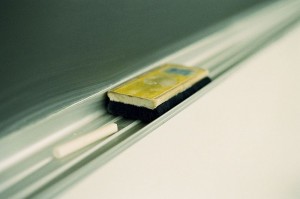 The average American is 17 times more likely to get laid off or fired than a Connecticut teacher, according to an analysis of state and federal data.
The average local and state government employee in the U.S. was six times more likely to get fired or laid off than Connecticut teachers, according to the analysis of state Department of Education and federal Bureau of Labor Statistics data.
Connecticut public schools fired 251 certified teachers over a six-year period, according to state Department of Education data, for an average of 42 per year.
School districts fired another 222 teachers for failing to be certified over the same period.
The state does not identify how many of the fired teachers had tenure.
The Connecticut Post recently reported about 40 tenured teachers had been fired over the past two years.
School districts employ more than 42,000 teachers. On average over the past six years, one out of every 1,000 certified teachers was fired each year.
Part 2 of this series will show how many school districts never fired a certified teacher between 2004 and 2010.
"Given the process for terminating a teacher, people sort of throw up their hands and say it's not worth the time or money," said David Calchera, director of public policy for the Connecticut Association of Public School Superintendents.
Calchera said some districts "quietly counsel people into other occupations" as an alternative to firing them.
Thomas Mooney, a partner at Shipman & Goodwin who literally wrote the book on Connecticut education law, said dismissing a teacher who did something bad can take three to five months, while firing teachers who are not good at their jobs takes six months or more.
He said new legislation proposed by Gov. Dannel Malloy will reduce the time it takes to fire a teacher to 30 days.
"It surprises me as being high," Mooney said of the 42 firings a year. "Almost all of these cases end with some sort of negotiated settlement."
"It happens. I don't want to say it never happens," he said.
According to FBI crime statistics, each year in Connecticut there are more murder victims than fired teachers. There is a murder every three days. A certified teacher is fired every nine.
Malloy – who recently defined teacher tenure as "basically job security" – is proposing a set of reforms to the state laws that keep teachers in place, such as new requirements that teachers continuously show good performance.
Malloy's proposal riled teachers unions and other defenders of the status quo. He even pointed out in his State of the State speech that, as a Democrat, he has been told he "can't, or shouldn't, touch teacher tenure."
Connecticut teachers automatically receive tenure after teaching for four complete school years as long as they are asked back for a fifth year.
Tenure is awarded by state statute. Although school districts can stop a teacher from receiving tenure at any point in the first four years by not renewing his or her contract, they do not control how or when a teacher receives tenure.
Under Malloy's proposal, teachers will have up to five years to earn tenure by receiving a combination of "exemplary" and "proficient" ratings.
"Right now, if you're a teacher and you have tenure, your performance in the classroom has to be rated 'incompetent' before dismissal processes can even begin," Malloy said in his State of the State speech.  "Even then – even if you're rated 'incompetent' – it can take more than a year to dismiss you."
Malloy's proposal changes the standard from "incompetent" to "ineffective" and adds "unprofessionalism" as grounds for firing.
"And to earn that tenure – that job security – in today's system basically the only thing you have to do is show up for four years.  Do that, and tenure is yours," he said. "The bottom line? Today tenure is too easy to get and too hard to take away."
"It's very constructive," Mooney said of Malloy's reform proposal. "I think it's pretty dramatic."
Calchera said teachers should be able to keep their jobs with a "continuing demonstration of effectiveness or moving toward effectiveness."
He said tenure reform would affect only a "fairly small group of people" and there would be "no question of continued employment" for teachers with years of effective performance.
"We know what makes for an effective teacher in the classroom," said Paul Peterson, Henry Lee Shattuck Professor of Government and director of the Program on Education Policy and Governance at Harvard University.
Peterson said school districts should use that knowledge to get rid of ineffective teachers.
"If a teacher was a bad teacher last year, she's going to be a bad teacher again this year," he said.
Peterson said there would be a significant impact "if you could eliminate the bottom 5 percent of the teachers and replace them with just average teachers."
"You wouldn't be penalizing most teachers," he said. "This could be one of the most powerful reforms we could have."
Calchera said the two main arguments against tenure reform are capricious or personal firing decisions or firing expensive teachers to save money.
He said teachers, like all employees, have certain rights that protect them from being discriminated against for age, gender, religion or political reasons. "Tenure is like an overlay to those rights," he said.
Calchera said it would be difficult to make the case to fire a teacher who had a long record of being effective just because an administrator didn't get along with them.
Mooney also dismissed concerns over arbitrary firings.
"It's baloney," he said.
Mooney said the rigorous evaluation process will require administrators to propose ways to improve.
"You can't fake that," he said. "I think the teacher's rights are fully protected."
Although it is hard to compare how often people get fired across professions, the federal Bureau of Labor Statistics tracks how often people leave their jobs and, more specifically, how often they are forced to leave by being fired or laid off.
Over the past six years that number has fluctuated between 5 and 7 percent of state and local workers nationwide.
More broadly, 17 percent of Americans lost their job on average each year.
In Connecticut in five of the past six years, school districts laid off or fired less than 1 percent of teachers in each of those five years.
In 2008-09, 1.5 percent of teachers lost their job. More than half were laid off.
The analysis revealed that 2,227 teachers left their jobs involuntarily over the six-year period. More than half (1,160) were laid off while one in five (459) were non-tenured teachers who didn't have their contracts renewed.
Districts terminated 222 teachers for not being certified and 251 certified teachers. Another 135 teachers who left for unknown reasons over the six year period were included in the analysis as if they had left involuntarily.
"These are important efforts that will help," Mooney said. He said reformers want to change the statutes "because that is what we can do."
Part 2: Most Conn. school districts didn't fire any certified teachers over 6-year period
Part 3: Most Connecticut teachers get tenure
Part 4: 'Dance of the lemons' affects Connecticut students