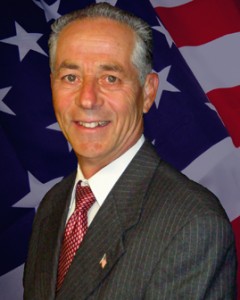 East Haven Mayor Joseph Maturo Jr., who has been in the center of the news after the arrest of four East Haven police officers by federal investigators and ensuing inflammatory comments, is appealing a decision by the State Employee Retirement Commission to end his disability pension.
Maturo received a pension for $40,113 in 2009, according to CTSunlight.
The previous mayor earned a salary of $75,000 in 2009, according to a press release.
"I am making no comment to the press" until a press conference later today, Maturo said Wednesday.
Brenda Halpin, director of the state's retirement services division, told the commission Jan. 12 a person receiving a disability pension from the Municipal Employee Retirement System "was sworn in as the Mayor of East Haven" in November, according to the meeting minutes.
"At that time we provided him with a letter advising him that it was necessary to terminate his disability retirement benefit effective November 30, 2011 related to two provisions for MERS," Halpin said. "First, under the rehired retiree provisions and second under the disability retirement provisions that to be eligible for a disability retirement you must continue to remain disabled."
"The member is appealing the decision to terminate his disability retirement benefits," she said.
According to Maturo's campaign biography, he served as an East Haven firefighter for almost two decades.
"After 17 years of devoted service to a job he loved, Maturo was compelled to resign because of a work-related injury," the biography says. "He has been a member of the East Haven Volunteer Fire Company since 1978."
Maturo also served as mayor from 1997 to 2007 and as the chief administrative officer of Connecticut's Police Officer Standards and Training Council, according to his biography.