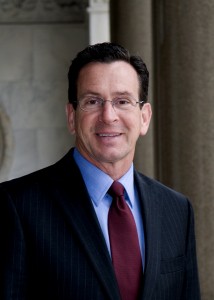 Without fanfare or announcement, Gov. Dannel Malloy has named the members of two working groups that will guide the unionization of home daycare providers and personal care attendants over the next year.
The two working groups will meet Friday morning. The Personal Care Attendant Working Group will meet at 10 a.m. and the Family Child Care Working Group will meet at 11 a.m., both in Room 410 of the Capitol.
Malloy created the working groups with executive orders nine and 10. Adding daycare providers alone to the union roles could increase dues revenue by $1 million.
The executive orders also include a card check provision that takes away the ability of daycare owners and PCAs to vote by secret ballot.
SEIU 2001 has already created a card for daycare providers. Signing the card replaces the secret ballot vote traditionally used in union elections.
Critics of the card check process say it opens the way for misinformation and intimidation by union organizers.
The Malloy administration previously declined to comment on whether doctors who accept Medicaid or employees of other organizations that accept state money could similarly be organized by executive order and forced to pay union dues.
Dennis Murphy, deputy commissioner of the Department of Labor, will chair both working groups. Murphy is the former director of human resources in Stamford where Malloy was mayor. He also served as director of human resources and chief administrative officer in Bridgeport.
According to his LinkedIn profile, Murphy worked as a staff attorney for the union NAGE/IBPO during the 1980s.
Larry Fox, listed only as a consultant on the administration website, will serve on both committees.
There is a Larry Fox with a West Hartford address who worked as a consultant for SEIU, according to the Federal Elections Commission, and gave $1,200 to the Service Employees International Union Committee on Political Education in 2006.
Other websites refer to a Larry Fox who is a former officer of 1199/New England and another who is a personal representative of former SEIU president Andy Stern.
It is unclear if these Larry Foxes are the same person or the one serving on the working group.
The daycare group has six other members: Theresa Younger, executive director, Permanent Commission on the Status of Women; Harriet Feldlaufer, bureau chief, State Department of Education; Phyllis Hyman, legislative and administrative manager, Connecticut Department of Social Services; Peter Palermino, program manager, DSS; Jane Norgren, social worker and guardian, Guardianship for Retarded Persons; and Dorothelia Barnett, owner and operator, Totts Inn Daycare and Learning Center.
The PCA group has three other members: Kathy Bruni, medical care administration program manager, DSS; Dr. Candace Howes, professor of economics, Connecticut College; and Sandra Fae Brown-Brewton, assistant chief of labor relations, Office of Policy and Management.
Both groups will review the executive orders that created them with the General Counsel's Office, discuss process and schedule future meeting dates, according to the meeting agendas.