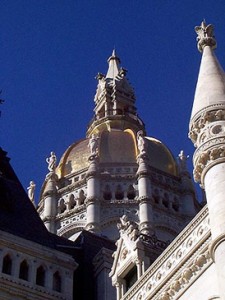 Gov. Dannel Malloy is seeking $291 million in state money to bring the Jackson Laboratory to Connecticut and reverse a recent decline in the biotech industry.
Connecticut's share of U.S. biotech jobs fell by 78 percent over the past decade, according to the Institute for Strategy and Competitiveness at Harvard Business School.
According to the institute's data, Connecticut had a .84 percent share of all U.S. biopharmaceutical jobs in 2009, but in 1998 3.77 percent of biotech jobs were in the state.
Connecticut makes up about 1.14 percent of the U.S. by population.
The state's biotech decline over the past decade was the worst in the nation, according to the Harvard data.
The pharmaceutical giant Pfizer has recently reduced its footprint in Connecticut through a combination of layoffs and shifting jobs to Cambridge, Mass.
Malloy cites Pfizer's ebb in Connecticut as a reason to invest in the field. In addition to the proposed incentives for Jackson, the state is also planning to spend $864 million on Bioscience Connecticut at the University of Connecticut Health Center.
The administration wants a vote on the Jackson Laboratory incentive package during the special legislative session Wednesday, known around Hartford as the "jobs session."
The Jackson incentives – unlike the broader jobs bill which is expected to have bipartisan support – have aroused criticism.
Sen. Len Fasano, R-North Haven, has asked for documents related to the deal, but the administration claims they include trade secrets and cannot be shared.
Sen. Len Suzio raised questions about the state's job creation projections based on the deal. "The model is based on the assumption that 100 percent of all jobs created in the 'research and development in biotechnology' sector in Connecticut are completely attributable to the JAX project," Suzio said.
On Monday, the Working Families Party released a study critical of subsidies to relocating businesses. The Yankee Institute for Public Policy, publisher of this website, released a statement opposing the incentive deal last week.
Prof. Michael Porter, founder of the Institute for Strategy and Competitiveness, spoke at the economic summit hosted by Malloy on Oct. 6 about improving the business climate, creating collaborative policies and building on strengths through cluster development.
"We can't create jobs out of nothing. We have to create jobs because we're competitive," Porter said. "We can't try to manufacture jobs. We have to try to make ourselves more competitive."
Porter said productivity is what makes a state competitive.
"It's much less important what you do than how you do it," he said. "The way to build a productive economy is not to try to get into fields that are hot or get into new areas that are growing or sexy."
Porter said the state should develop its economy by building on its strengths.
Malloy's office did not respond to requests for comment.
Porter wrote a case study about the economic development efforts of former Gov. John Rowland. Those efforts included targeted outreach to industry clusters in the state, including tourism, aerospace manufacturing and bioscience.
Porter was unavailable for comment, but the institute made his colleague, Dr. Christian Ketels, available for an interview.
"I think it would be interesting to figure this out," Ketels said of the decline in Connecticut's share of biotech jobs.
He said just because an industry like biotech is attractive nationally "doesn't mean it is the right place for Connecticut to focus on."
"You do have some strong clusters and these clusters happen to be in areas where you can make a lot of money," Ketels said.
Striping the zebra
"I don't know of one example — anywhere in the world — of a top-down cluster designed and incubated by government that has worked," said Vivek Wadhwa, an entrepreneur turned academic. "Countries have poured billions into some of these (Japan, Malaysia, for example)."
Wadhwa, who founded two software companies, holds positions at the University of California – Berkeley, Duke, Harvard Law School, Emory and Singularity University. He also writes columns for the Washington Post and BusinessWeek.
"My prediction: all of Connecticut's investments will fail," Wadhwa said. "It will take a decade before we know the results and by then the investments will be long forgotten."
Daniel Isenberg, management professor at Babson Global and founder of the Babson Entrepreneurship Ecosystem Project, said there are many attempted bioscience clusters in the U.S., including Kansas, Missouri, San Diego and Boston.
"It's absolutely impossible for all of these places to be successful," he said. "You can't have 50 or 80 of the world's best at anything."
Ketels said the large number of states vying for biotech jobs "means that a government has to be careful."
"A lot of these efforts have evaporated," he said.
"Connecticut should instead spend the money on teaching entrepreneurship to experienced workers, providing seed financing for startups, and investing in commercializing the research at local universities," Wadhwa said.
Isenberg, a former entrepreneur and venture capitalist, said it is "smarter, more effective to pave the footpath" for entrepreneurs, rather than create clusters that rely on them for success anyway.
He points to Iceland which has natural advantages in geothermal, fish and natural beauty, but has had entrepreneurial success in interactive gaming, generic pharmaceuticals and the manufacture of prosthetics.
"Clusters are not an invention or something that is created," Ketels, head of research at Porter's institute, said. "The starting point is just an observation of what the modern economy looks like."
Ketels said regions with concentrated employment in certain industries are more productive with higher wages and more entrepreneurship.
He said it is the market's role to identify clusters, while government can play a role in their evolution.
"You have to first pass the market test and build the clusters around them," Isenberg said.
He said many governments try to do the reverse. "That's what I call striping the zebra."
"Sadly, this never fell out of favor and consulting companies are still prescribing these — because they make big money," Wadhwa said. "Politicians love these because they make great press conference material, it makes them look like they are advancing science and technology, and they can hand out money to their patrons. Taxpayers are always left holding the bag."
Ketels said government needs to find out what the private sector needs, rather than making the cluster a "reluctant consumer of whatever government dreams up in this field." He said the same industry clusters in different locations might require different kinds of government action.
Isenberg said there are also risks to clustering similar companies together, such as reduced diversification or complacency.
"Entrepreneurship is inherently contrarian," he said, because it is about "identifying opportunities that other people think are inherently worthless."
"So, rather than obsess over clusters, we need to start obsessing over people," Wadhwa wrote in a Washington Post column, "Industry clusters: The modern-day snake oil."
Location incentives
Isenberg, who is currently helping Puerto Rico and Columbia with their economic development policies, said location incentives don't necessarily create jobs outside of the relocated company.
"You have to be really careful to get benefits," Isenberg said.
Ketels contrasted cluster development with incentives that lure companies from one place to another. He said incentive policies shift economic activity instead of enhancing it.
Isenberg said Israel has been successful at supporting companies with repayable grants. If the company is successful, he said, it repays the government by sharing royalties on the technology it developed.
He said governments should stay off company balance sheets and the Israel model is one way to do that. "I don't know why people don't copy it," he said.
"I'm not saying it can never work," Isenberg said. "You have to squeeze them for the spillovers."