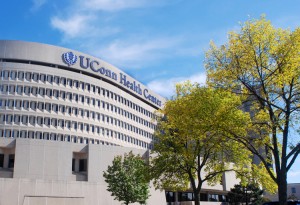 Gov. Dannel Malloy will ask the legislature to approve a $291 million incentive package for nonprofit genetic research laboratory to open in Connecticut, after a similar effort to open a lab in Florida failed.
The Jackson Laboratory of Bar Harbor, Maine, does genetic research and develops mice with human diseases to be used in biomedical research.
Jackson also has a location in Sacremento and is part of a consortium that applied to build a genetic engineering and research facility in New York City.
The plan to build in Florida unraveled because the state could not provide $100 million in incentives to the lab.
The legislature will hold a public hearing on the plan Thursday from 2:30 to 5 p.m. and a vote is expected at the jobs session on Oct. 26.
Jackson announced the end of its Florida plan on June 3 and announced Connecticut's interest in a location on Sept. 30.
The Malloy Administration's recruitment of Jackson began idiosyncratically with chief of staff Tim Bannon reading about the doomed Florida plan at his family's Maine vacation home near Bar Harbor.
The administration sees the recruitment of Jackson as an early success of its plan to invest $864 million in the University of Connecticut Health Center, a project known as Bioscience Connecticut.
"By investing in a smart, strategic project like Bioscience Connecticut, as we did in May, the state sent a loud and clear message around the world to companies and research institutes like Jackson Laboratory that we are ready, willing and able to be a partner in this up-and-coming industry," Malloy said.
His administration cited projections that the $284 billion personalized medicine industry will grow 11 percent a year going forward.
Among the few details available about the deal are the state's contribution of $192 million in a forgivable construction loan and $99 million in research funding.
Jackson will spend $809 million over 20 years and commit to hiring 300 people in Connecticut by year 10 and 600 by year 20.
If Jackson were to employ 300 employees for the first 10 years and 600 employees the second decade, state support would amount to a subsidy of about $32,000 per job, per year.
Under more likely scenarios where the job commitments are not met in the first year of each decade, the per job annual subsidy is closer to $50,000.
In all the administration projects the project will create 6,800 permanent jobs over 20 years.
State officials estimate the net present value of the deal is $466 million and that the state will break even 10 years into the deal.
The plan is also ambitious for the Jackson Laboratory, which is committing an average of $40 million per year to the project for the next 20 years, or about 20 percent of its fiscal 2010 revenue.
In 2010, Jackson – which makes most of its money from the sale of mice (60 percent) and doing government-funded research (30 percent) – had a $30 million budget surplus, according to its Internal Revenue Service form 990.
The surplus was much smaller, $7 million, in 2009. Jackson ran a deficit of nearly $3 million in 2008.
According to the Portland Press Herald, Jackson laid off 55 workers and eliminated 55 positions through attrition in order to avoid a $15 million shortfall in 2009.
Because some of the details have not been finalized, it is also unclear if the state will need to make Payments in Lieu of Taxes for the Jackson building, a cost that would last as long as the building.
Earlier this year, pharmaceutical giant Pfizer laid off 1,000 after meeting job-creation requirements that earned it millions in state and local subsidies. Swiss bank UBS won $20 million from the state to keep 2,000 of its 3,500 jobs in Stamford, after its previous multi-million dollar incentive package expired this year.
Update: Jackson projects employing an average of 343.75 people over the next 20 years. State support of $291 million amounts to an annual subsidy of $42,327.27 per job.