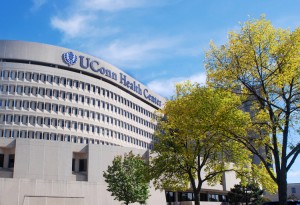 The University of Connecticut Health Center is considering an exclusive agreement with union contractors on its $864 million revitalization project known as Bioscience Connecticut, despite concerns about legal challenges and the increased costs under such agreements.
"We are evaluating options and a decision has not yet been made," said health center spokesman Chris DeFrancesco.
According to the health center, Bioscience Connecticut is expected to employ 3,000 construction workers each year until 2018.
Exclusionary deals with unions – called project-labor agreements or PLAs – prevent non-union contractors from bidding on projects. Smaller pools of bidders can lead to increased costs, according to the basic economic principle of supply and demand.
PLA's can also increase legal risk and compliance costs, according to state officials.
If UConn enters into a PLA all of the 3,000 construction workers will be union members. Without a PLA, union contractors would be free to bid for the contracts and would receive them if they were the low bidder, but the pool of potential bidders would be larger.
"If a PLA is something that the UConn Health Center decides to use, the Governor would be supportive," said Juliet Manalan, spokesman for Gov. Dannel Malloy.
Malloy strongly supported the Bioscience Connecticut project after the university lost a competition for federal funding to rebuild John Dempsey Hospital.
Earlier this year, the Department of Public Works and the Connecticut State University System testified against a bill that would have required CSUS – but not UConn – to enter into PLAs for construction projects at its four universities.
The bill, which referred to PLAs as Community Workforce Agreements, did not progress beyond a public hearing.
Jonathan Holmes, acting commissioner of DPW, said the state is required to pay prevailing wage which has prevented strikes on state construction projects.
"We question, therefore, the necessity or desirability of mandatory legislation of this sort from the state's, and the taxpayers', perspective," Holmes said.
"DPW has no resources or expertise to negotiate, arbitrate or otherwise enforce a labor agreement. Making the agency a party to, or guarantor of, such an agreement simply exposes the state to significant potential litigation, with no apparent benefit to taxpayers for taking that risk," he said.
CSUS also opposed the legislation.
"The Connecticut State University System recognizes the value of Community Workforce Agreements and agrees that for some construction projects they can be effective and appropriate," said Keith Epstein, a CSUS assistant vice chancellor, in his testimony to the legislature.
"However, if not carefully planned, managed and administered such a program can result in significant additional project costs," Epstein said.
He also said monitoring and enforcement of the agreement can add expense to projects with PLAs.