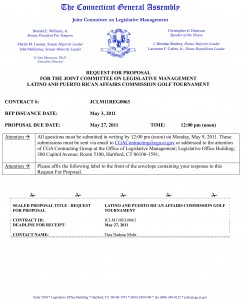 One of Connecticut's legislative commissions is seeking bids to host a September golf tournament with a 52-page request for proposals.
The Latino and Puerto Rican Affairs Commission will use the tournament to raise money for its scholarship fund, according to Lucy Goicoechea-Hernández, the commission's coordinator of special projects.
Bidders have until May 27 to respond. The commission is seeking an 18-hole course on Sept. 18 with capacity for 100 to 124 golfers and lunch included, plus a dinner menu and pricing options.
Last year, former Gov. M. Jodi Rell proposed eliminating the LPRAC and five other legislative commissions. Gov. Dannel Malloy included funding for the commissions in his budget.
Goicoechea-Hernández said she expects sponsorships to cover the costs of the commission's first golf tournament in addition to raising money for the scholarship fund. She said she already has $3,000 committed from one sponsor and has other sponsors interested.
She said the event will cost $4,700.
"The response has been overwhelming," Goicoechea-Hernández said. "We're already turning a profit so I'm very pleased."
The RFP, prepared by the Office of Legislative Management, asks bidders to include their experience and references from similar events. It seeks detailed information about pricing, but caps the per golfer rate at $35 and the cost of lunch at $11.50.
The commission also asks for availability and cost of "sign holders for hole sponsorship signs."
The RFP outlines the relative weight for guarantee of availability on Sept. 18 (45 percent), fees (35), lunch offerings and price (10), dinner offerings and price (5) and "demonstrated ability to meet the remaining technical requirements" (5).