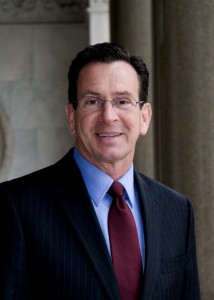 Gov. Dannel Malloy will finish fiscal year 2012 with an extra $142,300 left in his office budget and return it to the state treasury – if all goes according to plan.
Malloy's budget includes $2.3 million for his office staff. He has touted the fact that he cut his staff by 15 percent. The number of staff has fallen from 32 to 27, although the budget for salaries increased.
The salary budget went up – according to Colleen Flanagan, Malloy's communications director – because of the 27th payroll, which will cost the governor's office $42,898.
The 27th payroll occurs every 11th year because each year does not include exactly 26 pay periods. Over 11 years, that additional time adds up to an extra paycheck for each state employee.
The average salary for full-time staff in Malloy's office is $79,864. Click to see a spreadsheet of all salaries in the Governor's Office.
The salaries total $2.2 million, leaving $142,300 unbudgeted.
The remaining money, Flanagan said, "represents funds that may be used for short-term, temporary or part-time positions as needed.
"This is not uncommon and past administrations have also had this money budgeted," she said. "There is no requirement that we use all of this money, and ultimately we may not."
According to CTSunlight.org, the Governor's Office under former Gov. M. Jodi Rell had considerable savings as staff left anticipating the end of her term. In 2010, Rell paid $1.8 million in salary to her staff, well below the budgeted amount of $2.3 million.
In 2009, Rell's office spent $2.36 million. Her office spent $2.4 million in 2008 and $2.32 million in 2007.
Five employees from Rell's office are still working for Malloy. They are the fiscal administrative officer, director of constituent services, executive assistant to the chief of staff and two constituency aides.