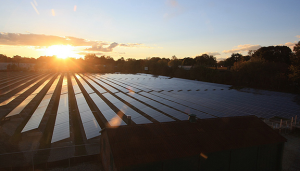 Environmental lobbyists moved quickly to take advantage of Connecticut's change in governor and got a place of honor for a massive energy bill that will prop up solar generation with subsidies at the expense of consumers and employers across the state.
These industry giveaways will cost consumers and employers as much as 5 percent more on their electric bills. All told, the subsidies could cost as much as $270 million.
One could question the timing.
Massachusetts recently got burned on a multimillion dollar incentive package – $31 million according to the Boston Herald or $58 million according to the Boston Globe – for a solar manufacturing company lured by politicians to set up shop in their state. Everygreen Solar, which built a facility at a former military base in Devens, Mass., recently announced it would move 800 jobs out of the state despite the generous taxpayer subsidies.
Connecticut already has electric rates higher than every state other than Hawaii.
Senate Democrats made the energy overhaul Senate Bill 1 – while the state faces a $3.4 billion deficit and 9 percent unemployment. Solar generation in Connecticut is already heavily subsidized, although last year the legislature took a third of the money targeted to solar subsidies and used it to balance the budget.
Gov. M. Jodi Rell vetoed the solar subsidy bill last year, citing the costs. Not willing to let Rell have the last word and giddy to take advantage of the first Democratic governor in more than two decades, the Democratic leadership in the senate made the zombie bill their top priority.
Critics say solar generation cannot succeed in Connecticut without state subsidies and that these subsidies amount to the government picking winners and losers.
Last year the bill had a range of supporters, including AARP, CCAG, ConnPIRG, Environment Connecticut, CT Fund for the Environment, Solar Connecticut, Independent Connecticut Petroleum Marketers Association, SunEdison, Spanish Merchants Association, Minority Construction Council and Connecticut Association for Community Action.
Connecticut Light & Power and United Illuminating opposed the bill on behalf of their customers. The Connecticut Business & Industry Association also opposed it.
The bill called for a tenfold increase in solar generation in a decade brought about by government mandate that makes solar a big winner. To meet the requirements of the bill, Connecticut would need to build more solar generation capacity than currently exists in the U.S. outside of California, where 73 percent of all American solar power is generated.
Even the Golden State – almost 30 times the size of Connecticut and home to the hottest desert in North America – subsidizes the solar industry to the tune of billions of dollars.
Connecticut already has a requirement that 20 percent of electricity be generated from a renewable source by 2020. The new legislation would privilege solar power at the expense of other forms of renewable energy, some of which are closer to market rates.
Last year legislators balked at the idea of a 5 percent increase in electric rates, so they capped the implicit tax at 1 percent. However, opponents of the bill believe such a cap is too easy to increase or remove down the road.
The legislation also creates a new energy bureaucracy and requires it to find a way to reduce rates by 15 percent in two years – without even a suggestion how.
Electric rates for 2011 fell by 7.8 percent for CL&P customers and 1.5 percent for UI customers under the existing system the legislation  seeks to replace.
"We supported vetoing the bill," said Michael West, UI's director of corporate communications.
West said UI believed the law as a whole "would have increased customer rates by a significant amount." He said the company did support portions of the bill.
"We understand that this is the starting point," West said, referring to this year's bill. He said UI wants to work with legislators to create an "effective energy policy for the State of Connecticut in 2011."
The state could reduce the impact on ratepayers by subsidizing solar projects with taxpayer money, but that would increase the pressure on the state's budget which already faces a $3.4 billion deficit.
 "Connecticut led our country into the industrial revolution with great leaps forward in technology," Sen. John Fonfara, D-Hartford, co-chairman of the energy and technology committee, said in a statement. "We can lead again by making efficient technology affordable for all businesses and families in Connecticut. This will reduce energy demand and further lower costs."
Fonfara said the bill would reduce consumer bills by an average of $6.50 per month if the legislation's goal of reducing rates by 15 percent is met. He said the renewable energy provisions would only increase consumer bills by 97 cents per month.
Boston-based Levitan & Associates, hired by the Department of Public Utility Control, estimated the bill would cost between $62 and $88 million per year because the cap would restrict cost growth. Total cost growth would exceed the cap because only some effects of the legislation are affected by the cap.
Levitan estimated costs would rise $106 to $268 million per year without the benefit of the cap – or as much as 5 percent of electric costs.
The Office of Policy and Management and the Department of Public Utility Control estimated last year's bill would cost ratepayers "at least" $72 million for incentives and $9 million for administration, according to a memo.
In a response, two lobbyists in support of the bill, Christopher Phelps, program director for Environment Connecticut, and Roger Smith of Clean Water Action contested the estimates by DPUC and OPM.
"We are puzzled by the foundation of their analysis," Phelps and Smith wrote. They also explain that the costs to ratepayers "would remain well below the 1 percent rate cap established in the bill."
The DPUC hired Levitan to do an analysis in response.
"This energy bill moves Connecticut towards a cleaner, more efficient and more affordable energy future," Phelps, program director for Environment Connecticut, said in a statement last year. "The bill will cut pollution and create jobs by building hundreds of megawatts of new Connecticut-based solar, wind, and other renewable power sources over the next decade. It will reduce our dependence on fossil fuels and save money for families and businesses through new and innovative financing programs supporting energy efficiency retrofits and installation of renewable energy systems at homes and businesses."
Connecticut would need between 200 and 220 megawatts of new solar capacity to produce the mandated number of megawatt-hours – 4.35 million over 20 years.
One megawatt of capacity usually translates to 8,760 megawatt hours of electricity each year with a source that can run all time. However, solar capacity is not constantly producing electricity – night, winter and inclement weather all reduce output – so more capacity is required than with other sources.
Each additional megawatt of solar capacity could cost $1 million to bring online in the first year and then declining amounts in each following year.
The state's two electric utilities provide last-resort electric service to all state residents although residents are free to shop for lower prices with independent providers. Connecticut Light & Power customers pay 9.482 cents per kilowatt-hour. United Illuminating customers pay 10.616 cents.
Last year's bill would have allowed utilities to buy in-state solar power at up to 65 cents per kwh or more than six times what customers are currently paying for electricity. The additional costs would not affect the utility companies, but would be passed on directly to consumers.
Since the solar requirement would peak at about 1 percent of total electricity generated, the legislation could increase rates by up to 5 percent if utilities paid the full 65 cents per kwh. However, the legislation also included a cap that prevented its policies from increasing rates by more than 1 percent. If rates approached the cap, the costly policies would be suspended for the rest of the year.
For more about what's in Senate Bill 1, see "Vetoed energy bill back from the dead as Senate Bill 1."