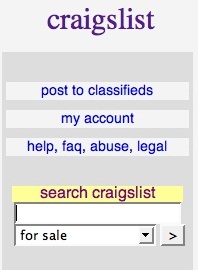 Attorney General Richard Blumenthal called on Craigslist Wednesday to shut down its "adult services" advertising section.
Blumenthal and 17 other state attorneys general are targeting Craigslist, but what about companies with operations in Connecticut?
Craigslist is based in San Francisco, Calif., and operates classified sites for Hartford, New Haven, Eastern CT and Northwest CT.
A June article in the Hartford Courant linked a prostitute to an ad in the Hartford Advocate.
The Advocate has four pages of adult ads in its Aug. 26 edition. The ads are also available online at a site known as The Back Room.
"I am deeply troubled by blatant prostitution in any media outlet, but craigslist is a national leader in prostitution – far exceeding others in scope and scale. We hope that it can set a national model in eliminating the Adult Services section so that others follow its lead," Blumenthal said in a statement responding to questions about local advertisers.
"At least dozens of prostitution arrests in Connecticut directly resulted from craigslist prostitution advertisements – proving the immediate and significant public safety threat by this multi-million dollar online brothel.
"While craigslist has profited from prostitution, the human toll is intolerable and must be stopped."
Advocate publisher Joshua Mamis said Blumenthal's actions could lead down a slippery slope.
"I don't want to be in the business of policing advertisers and policing our community," Mamis said.
"Do I know that a massage provider is on the up and up," he said. "I wouldn't unless I went there myself."
"I don't think the attorney general knows either," Mamis added. "It all begs the question, what's the state's interest in this."
Mamis acknowledged that law enforcement officials have "named us in their press releases."
He also pointed out that the last prominent attorney general to crack down on prostitution, New York's Eliot Spitzer, had some trouble later in his career.
"I'm not implying anything. I'm just having fun," Mamis said.