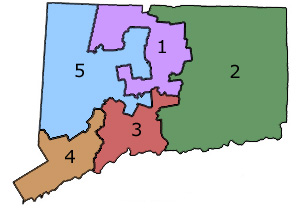 The 2010 U.S. Census won't affect Connecticut's representation in Congress, according to a recent report by Election Data Services, because the state's population is at the halfway point between the current five-seat delegation and the six seats it previously held.
At an estimated 707,157 residents, the report predicts that Connecticut will have the ninth most-populous Congressional districts in the country.
Montana would have the most populous Congressional seat at 983,932 and Wyoming would have the smallest at 548,154.
According to the report's estimates, Connecticut would need 363,282 more residents to gain a seat or 356,999 fewer residents to lose a seat.
Connecticut received the 399th seat in Congress, according to the report, meaning that Connecticut would lose its fifth seat if there were only 398 seats in the House of Representatives.
In order to obtain a sixth seat, the House would need to expand to 481 seats, the report said.
Texas will receive the last of the 435 seats, the state's 36th, and New York would be the next to receive a seat, its 28th, if there was a 436th seat.