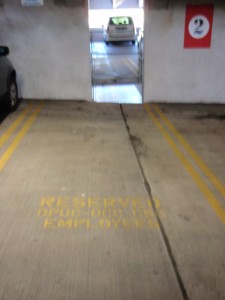 On Sept. 15, one of the five Department of Public Utility Control commissioners, Amalia Vazquez Bzdyra, was arrested on a charge of shoplifting.
According to City of New Britain parking records obtained in a Freedom of Information Act request, Bzdyra left the parking garage used by DPUC at 11:56 a.m. on Sept. 15.
The New Britain Herald reported Bzdyra took $252.99 in jewelry from Lord & Taylor in the Westfarms Mall around 2:30 p.m.
Bzdyra was charged with sixth-degree larceny and will appear in Hartford Community Court on Oct. 29.
Sept. 15 wasn't the first time Bzdyra left the parking garage before 3 p.m. According to records going back to Jan. 4, Bzdyra left before 3 p.m. eight times.
Some days Bzdyra didn't even park in the garage.
Out of 174 work days between Jan. 4 and Sept. 15, Bzdyra parked in the garage on only 86 days. That leaves 88 days she didn't use the garage.
DPUC spokesman Phil Dukes said he can account for the days Bzdyra didn't use the garage. He said Bzdyra was out of the office for 10 days of training, two days of public speaking, two days of meetings with regional entities, two personal leave days, 11 sick days and 12 vacation days.
Dukes said he was able to confirm Bzdyra was in the office 48 of the days she didn't park in the garage. He said email records are stored differently based on whether they are sent from a Blackberry or the computer in the office.
Dukes said Bzdyra has a "serious back injury" and she regularly parks at the loading dock closer to DPUC's office than the parking garage.
The other commissioners provide a clear contrast with Bzdyra. Parking records for three commissioners – Chairman Kevin DelGobbo, Vice Chairman John Betkowski and Commissioner Anthony Palermino – were available from January to September.
Each of the three parked at the office garage for at least 140 days compared to Bzdyra's 86.
DelGobbo, Betkowski, Palermino and the fifth commissioner Anna Ficeto parked in the garage on at least four out of five work days; Bzdyra parked there on half of all work days.
Bzdyra has not parked in the garage on more workdays than any three other commissioners combined.
She parked in the garage for 525 hours, while Ficeto – who was confirmed as a commissioner Feb. 24 – has parked for 700 hours despite having 36 fewer days included in her record.
The commissioners who have complete 2010 parking records to compare with Bzdyra have parked in the garage almost twice as much: DelGobbo for 1,075 hours, Palermino for 931 hours and Betkowski for 912 hours.
According to the parking records, Ficeto averages 6.1 hours per visit, Bzdyra 6.2, Betkowski 6.5, DelGobbo 7.0 and Palermino 7.2.
Dukes said commissioners don't only do work at the office. He said public hearings and other off-site meetings also make up part of each commissioner's work week.
"They're taking home voluminous amounts of reading," Dukes said.
He said Bzdyra is willing to provide her notes on any case to demonstrate the work she does.
"To suggest she only puts in six hours a day is unfair," Dukes said. "She is not a slacker around here."