By now, you know that Raising Hale is a great source for investigative reporting that you won't see anywhere else. But it doesn't end there. The goal isn't just to delve into stories that no one else is covering, it is also to start new conversations about them.
You are critical to this process and adding your voice to the discussion is easy.
Updated 5/17/2011: Now easier than ever using Disqus! No need to register! Just follow the instructions below.
The Four Quick and Easy Steps to Comment on Raising Hale
Step 1: Find the comment box
Scroll to the bottom of the Raising Hale article that you'd like to discuss and find the comment box. It looks like this: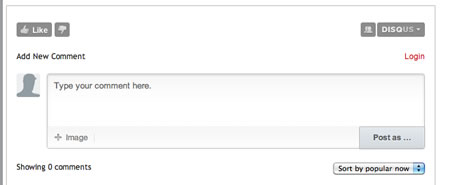 Step 2: Enter your Comment
Enter your comment. When you are done, click on "Post as . . ." in the lower right hand corner of the comment box.
Step 3: Choose your Log In (or Don't)
Options, options.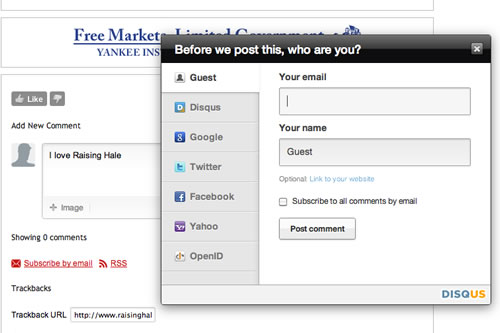 You probably already have a user profile with Google, Twitter, Facebook, or Yahoo. You can log in using your usual account information or you can simply enter your e-mail address and post as a guest.
Step 4: Click "Post comment"
Click "Post comment" and you are done.
Comment Policy
First Timers
If you've never commented before, then your comment will go into the moderation queue. We use this to cut down on spam comments and to make sure that everyone is playing nice. Don't worry, we keep a close eye on the moderation queue and we are pretty quick about getting them approved or not.
Sandbox Rules
Play nice. Profanity, ad hominem attacks, or other poor behavior will get you on the naughty list. You don't want that, do you?
Nom de plume
Want to make a comment but feeling a bit shy? It's no problem. Use a pseudonym of your choice but be responsible. Freedom to comment without attribution is not freedom to comment carelessly. For our part, we'll never disclosure your e-mail or IP information to anyone, but we will use it to contact you if you get out of line.