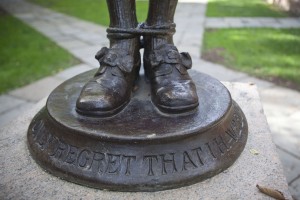 Supreme Court nominee Andrew McDonald used a private email account in his official capacity as general counsel to Gov. Dannel Malloy on at least three occasions, according to emails obtained by Raising Hale, raising questions about whether he used the account to evade Connecticut's Freedom of Information law.
It is unclear why McDonald used the private email account instead of his state account, but, in other cases, public officials have used private email accounts to circumvent disclosure laws.
A spokesman for Malloy said McDonald would speak for the Governor's Office if he had any response. McDonald did not respond to requests for comment before deadline.
Malloy nominated McDonald, a former state senator from Stamford, to the state's highest court in December. A vote on his nomination is expected Wednesday.
Raising Hale made a Freedom of Information Act request to McDonald and Malloy's office Saturday requesting "all emails sent, received or drafted by Andrew McDonald on the following dates, including correspondence related to official duties located in private email accounts."
A response to this request would show whether McDonald was using his Gmail account in an attempt to skirt disclosure rules or simply for convenience.
Under state law, all public documents are subject to disclosure rules, even emails in a personal email account if they relate to an official's public duties.
The state library, charged with maintaining historical records, also has a retention schedule for correspondence of the governor and his top staff members requiring their permanent archival. According to the library's policy, Malloy's office will retain the files until the end of his term and then turn them over to the library.
We The People of Connecticut, a group of activists, obtained the emails through a Freedom of Information Act request and provided them to Raising Hale. The group sued the state over the unionization of personal care attendants and home-daycare owners. The Yankee Institute for Public Policy, publisher of this website, is engaged in legal disputes with the state over similar matters.
McDonald, as Malloy's top legal advisor, oversaw the drafting of executive orders and legislation that led to the unionization of the personal care workers and daycare owners. The work was completed primarily by his deputy, Christopher Drake.
The response by Malloy's office includes emails belonging to multiple individuals, including McDonald and Drake.
In one of the emails disclosed from McDonald's state email account, Betty Gallo, a lobbyist with Betty Gallo & Co., said she had been using the wrong Gmail address to email McDonald.
"Apparently I have been driving another Andrew McDonald crazy," Gallo wrote.
In Drake's batch of emails, there is one email sent to, and another from, a Gmail address that includes McDonald's name.
Malloy's office disclosed neither of these emails in the group belonging to McDonald.
In the email from Drake to McDonald's Gmail account, he sent an attachment for a proposed framework for legislation on personal care attendants.
In the email from his Gmail account to Drake, McDonald asked him to review proposed legislation to ensure Dan Livingston, a labor lawyer with Livingston, Adler, Pulda, Meiklejohn & Kelly who also serves as chief negotiator with the State Employees Bargaining Agent Coalition, didn't make any changes.
"Please review any substitute language that was provided on the two bills in Labor. I want to make sure that Livingston didn't sneak anything into them that wasn't cleared with you," McDonald wrote.
A third email in the Drake collection is one from McDonald's Gmail account to Drake and copying McDonald's state account. It also appears in the set of emails from McDonald.
At the federal level, members of both parties have used additional email accounts to work around transparency requirements.
Officials in the White House of George W. Bush used email accounts provided by the Republican National Committee or the campaign.
Environmental Protection Agency Administrator Lisa Jackson, appointed by President Barack Obama, is under investigation for using a second email address, belonging to a nonexistent 'Richard Windsor,' to conduct agency business. According to the EPA, her Lisa Jackson email was too widely available for Jackson to use it for her work.