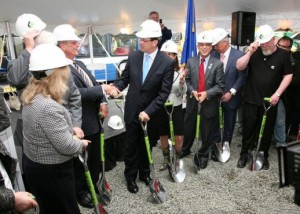 The Connecticut Department of Transportation broke up the asphalt on Broad Street in Hartford two weeks ago as part of construction on the New-Britain-to-Hartford busway only to put down temporary asphalt Thursday to accommodate the ING Hartford Marathon.
DOT spokesman Kevin Nursick said the extra work on a 20-by-100-foot section of Broad Street cost about $20,000, according to his "educated estimate."
He said the temporary material will be removed "any day now, potentially as early as today."
"The temporary pavement consisted of roughly one inch of thin surface overlay," Nursick said.
He said it was applied "to address safety concerns for the marathon" because the surface was uneven.
The 9.4-mile busway, branded as CTfastrak , will cost $567 million, or more than $60 million a mile.
"It's certainly not out of the ordinary for the Department to be sensitive to community needs when performing construction projects," Nursick said. "We have plenty of projects that are modified during design or during construction to take into account concerns of neighbors or communities, and that's pretty much the same thing that occurred here."