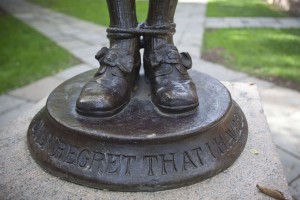 Canada's Parliamentary Budget Officer wants to know how the government plans to save $5.2 billion.
The departments say the savings are "efficiencies," but won't give any more details, forcing the PBO to go to court.
Parliament created the PBO because Conservatives wanted an office to "provide an accurate, impartial accounting of federal finances," according to Andrew Coyne of National Post, similar to the U.S. Congressional Budget Office.
PBO Kevin Page asked the departments to clarify the cuts because the terminology was vague.
Coyne said officials have lied to Page and politicians have "ridiculed" him.
Page requested financial information from 82 departments, but received only 16 responses.
Half of the responses were sent after his first request in April. The other half were sent after Page made a second request a month later.
Wayne Routers, Clerk of the Privy Council, denied the request on the grounds that the government had to notify unions before he could release information to the public, but Page says that isn't one of the statutory reasons for noncompliance.
Last year, Gov. Dannel Malloy and government unions agreed employees would find $180 million in savings with a similar lack of specificity.
Each Friday, Raising Hale will highlight one crazy thing from the latest headlines that could happen in Connecticut. To suggest a topic, contact Zach.
It could happen here – Archive: