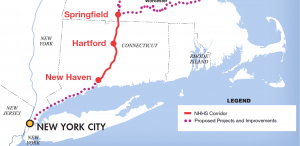 It is June 13, 2030, and the train conductor on the new rail line heading to Springfield picks up 14 passengers at the first stop in New Haven.
The next stop is State Street, about two miles away, and 10 passengers board the train.
In North Haven the train picks up nine people.
Eleven people get on in Wallingford, plus 13 in Meriden, 12 in Berlin, eight in Newington and 12 in West Hartford.
The busiest station of the day will be Hartford, where 24 passengers board the train.
By the time the train reaches Springfield four stops later, an average of 155 people will have boarded, according to Department of Transportation estimates.
The New Haven-Hartford-Springfield Rail Project will cost $647 million, not including the cost of building stations. Construction is expected to begin 2013.
DOT estimates about 155 people will ride each of the 32 trains running in the start-up scenario.
When additional trains are added – eventually reaching the target of 70 trains per day – the number of riders boarding at each station decreases, according to DOT estimates.
With 70 trains running each day, only 99 people will ride each train.
During the start-up period, there will be about 5,000 riders each day. If all of them are round-trip commuters, only 2,500 people will ride each day at start-up.
A sell-out show at the Bushnell accommodates 2,800 people.
At full build, there will be about 7,000 rides daily, the equivalent of 3,500 commuters. If all of the passengers are regular commuters, one out of every 1,000 Connecticut residents will ride the train.
These numbers add up to DOT projections of 1.26 million rides annually.
According to DOT, it used a four-step process to determine how many people will use the proposed rail line.
First, DOT collected data about the region. Then it identified where current travelers start and end their trips. Third, they compare how many people use each type of transportation that is available. Finally, DOT models this information to calculate ridership.
There was a public hearing on NHHS on June 7 in New Britain.
There will be two more: 7 p.m. Wednesday, June 13, at Asnuntuck Community College in Enfield and 7 p.m. Friday, June 15, at North Haven High School.
Caitlin Landers is a journalism intern at the Yankee Institute. She is a rising junior at Syracuse University studying broadcast digital journalism and international relations.  She lives in Manchester.