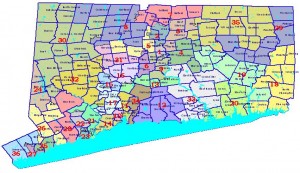 Next week Connecticut will elect its 187-member legislature.
Voters may be interested to learn that despite the legislature's part-time designation, a quarter of its members don't work another job.
The 47 legislators without another income make a base salary of $28,000 a year. However, all 36 senators and 107 out of 151 representatives make an additional leadership stipend.
According to a review of state ethics forms filled out by all 187 state legislators, otherwise unemployed legislators outnumbered even the 32 lawyers, who made up 17 percent of the combined General Assembly.
Seven percent of legislators (14) reported pension income. Eight pension recipients reported no employment income, bringing the total number of full-time legislators to 55 or 29 percent of the General Assembly.
Government employees, including workers for quasi-state agencies and local governments, make up the third-largest block with 24 members or 13 percent.
There are 22 business owners in the General Assembly (12 percent), 19 employees of a nonprofit (10 percent), 10 real estate professionals (5 percent) and four employees of unions (2 percent).
Twenty-five members, 13 percent of the total, worked a job not specified by these categories. These members include employees of corporations and universities.
Nearly three-fourths of legislators are married, according to ethics forms.
Of the 134 legislative spouses, one in four doesn't report employment income. One in five (28) have a government job, 11 percent own a business, 10 percent receive a pension and 10 percent work for a nonprofit.
Only four legislators are married to lawyers.
Twenty-nine legislative spouses have a job that doesn't fit into these categories (22 percent).
According to the disclosure forms, 163 members of the General Assembly own real property (87 percent).
| | | |
| --- | --- | --- |
|   | # | % |
| No other employment income | 47 | 25% |
| Lawyer | 32 | 17% |
| Government | 24 | 13% |
| Business owner | 22 | 12% |
| Employee of a nonprofit | 19 | 10% |
| Pension recipient | 14 | 7% |
| Real estate | 10 | 5% |
| Employee of a union | 4 | 2% |
| Other | 25 | 13% |