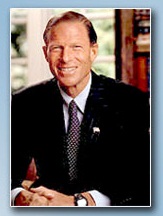 Bodies aren't the only things getting buried in a Stratford cemetery. There's a story about political favoritism by Connecticut Attorney General Richard Blumenthal that needs to be disinterred.
Blumenthal typically pursues civil claims on behalf of consumers with aggression. However, two recent cases involving alleged misconduct in cemeteries show a contrast between Blumenthal's usual method – total legal war – and gentler methods used against a politically connected operator known to some as the "Boss Tweed of Stratford."
Blumenthal is not seeking reelection as attorney general. He is running for U.S. Senate against wrestling-impresario Linda McMahon.
The first person – William Magner of Easton – was accused of serving on a cemetery board while being paid to manage cemeteries overseen by the board. When he learned of the violation, under a law passed seven years after taking his seat on the board, Magner resigned from the board to remain manager.
Magner settled the criminal charges against him by pleading guilty and accepting probation, but Blumenthal continues to seek a six-figure settlement from him, three years after the cemetery association seized his property and fired his management company.
"Our lawsuit against Magner seeks restitution, civil penalties and a court order stopping Magner's alleged law breaking," said Tara Downes, spokesman for Blumenthal. "Cemetery associations are entrusted to provide the best service to honor the deceased and their descendants, and should not be compromised by conflicts of interest that threaten to divert funds intended for proper cemetery maintenance and care."
"We estimate that several consumers are still owed goods or services – collectively worth thousands of dollars – for which they prepaid," she said.
The second person, Richard Miron, was charged with larceny after taking money for more than 70 gravestones, but never providing the product.
He also settled the criminal charges against him by pleading guilty and accepting probation. However, the payment of restitution satisfied Blumenthal, who decided not to seek any civil penalties although state law allows him to seek $5,000 per victim.
Miron, a longtime party boss in Stratford, ripped off senior citizens, a synagogue and other clients who paid in advance for at least 70 headstones and received nothing. According to court documents, Miron's company, Lakeview Monument, was financially unable to fill orders in April 2007, but continued to accept orders for six months.
Miron pleaded guilty to one count of first-degree larceny and was sentenced in June to 10 years of probation.
Criminal charges in Connecticut are handled by the State's Attorney, which is independent of Blumenthal's office. (Contrary to popular belief, Blumenthal hasn't been a prosecutor since 1981.)
Miron was ordered to pay restitution to 68 victims, but Attorney General Richard Blumenthal, acting on behalf of the State of Connecticut, sought no civil fines.
The assistant attorney general who handled Miron's civil case argued he would be better able to pay back his victims if he paid no fines.
"Our action against Miron also sought money back to consumers – restitution for memorials and service never provided – as well as fines," Downes said. "Our settlement ultimately achieved full restitution for all consumers – which was our paramount concern."
Richard Miron had a colorful political history before he stole from his gravestone customers. He was the Democratic Town Committee Chairman and Democratic Registrar of Voters in Stratford, holding each position for more than a decade.  His son, James Miron, served as Mayor of Stratford from 2005 to 2009. The younger Miron was defeated in his reelection campaign, in part due to accusations of cronyism and other old-school politics. James Miron is now running for state Senate.
In 2001, the State Elections Enforcement Commission fined Miron $2,500. He circulated petitions to get his slate of delegates for Democratic conventions onto the primary ballot. The SEEC fined Miron for signing the circulator's statement on petitions he did not circulate.
In 2004, Miron retired as registrar of voters. He cashed out a retirement fund and vacation time in a lump-sum payout. The retirement fund included $10,000 of his money and $10,000 from the town. His deputy, Eileen Wilson, automatically became registrar. Wilson then appointed Miron her deputy, and then she promptly resigned one week later, allowing Miron to return to the position with his pension check cashed.
The late Sylvia Rocklin-Guberman, a Democratic Party activist in Stratford, sent a letter to Blumenthal – whom she supported – in March 2008 raising the concern that Miron's connections were preventing an investigation into the gravestone issue from advancing.
The Attorney General's office had begun its investigation into Miron in December 2007. On April 8, 2008, Blumenthal issued a press release as a first public salvo against Miron.
Verna Kearney, a Bridgeport police officer and resident who was swindled by Miron, praised Blumenthal for getting restitution.
"I'm pleased because of the work Mr. Richard Blumenthal put into the case," Kearney said in a recent interview. "I would say the wheels of justice turned. He did make some restitution."
In his press release, Blumenthal sought much more than restitution. He also wanted a $5,000 fine for each victim – potentially more than $300,000.
According to the press release, Miron and Lakeview had unfilled orders going back to August 2005.
"Lakeview chiseled consumers, taking cash for headstones the company knew it would never deliver," Blumenthal said in the press release. "The company failed to keep its commitments, leaving families who lost loved ones without money or memorials. Even after Lakeview was on its deathbed – its suppliers refusing to do business – the company inexplicably, irresponsibly and illegally continued to take payment for work it could not complete.
"I will fight for money back to consumers – restitution for memorials and service never provided – as well as stiff, strong fines."
Despite Blumenthal's headline-grabbing press release, Miron paid no fines. Instead, Blumenthal settled for restitution, allowing Miron to get away with in effect taking a no-interest loan from his victims.
Magner was not as fortunate. Unlike Miron, Magner is largely absent from media reports – good or bad – until his 2007 arrest for violating cemetery law.
Magner's company, Magner Management, had a 20-year contract with the Danbury Cemetery Association to manage its two cemeteries. The contract, signed in 1998, included provisions for up to three 10-year renewals.
The agreement gave Magner a seat on the board and the ability to nominate a person to fill every other vacancy that comes up on the board.
In 2005, seven years into the agreement, the state legislature passed a law forbidding the same person to serve as cemetery manager and a board member of the cemetery's association.
Months later, when he learned about the new law, Magner resigned from the board after consulting with an attorney. He continued to manage the cemetery for nearly a year before he was arrested in August 2007.
Magner accepted accelerated rehabilitation – a probation program for first time offenders – to settle the criminal case against him for two misdemeanor violations of cemetery law.
Meanwhile, Blumenthal filed a civil lawsuit seeking at least $120,000 in October 2007. It is unclear how much of that money would go to consumers and how much would be fines.
According to Magner's attorney, James Oliver, the cemetery association seized Miron's property in November 2007 in the presence of four Danbury police officers and an investigator from Blumenthal's office.
Oliver said the association took Magner's business property "under color of authority" since Magner was removed from his office and the locks changed in the presence of local police and the state official from Blumenthal's office.
The authorities acted without an eviction notice, search warrant or any other legal order, according to Oliver.
"The investigator was present with the consent of the cemetery association," Downes said. "He had no involvement in any property seizure, nor did he speak to Mr. Magner while there beyond identifying himself when Mr. Magner asked."
"This office did not seize or attach property in either case (Miron or Magner)," she said. "In the Miron case, the defendant ultimately agreed to provide full restitution, absolving the need to attach property. The Magner case remains ongoing and, as stated above, the state did not seize any property."
After losing his property and being fired by the cemetery association, Magner filed a federal lawsuit claiming breach of contract.
Oliver said Magner is unable to deliver on certain prepaid consumer orders because his property was seized.
The initial allegations against Magner, found in an affidavit by a Department of Consumer Protection special investigator, all relate to provisions of the 1998 management agreement between Magner's company and the Danbury Cemetery Association.
The complaints from three consumers and two association board members – including one anonymous director – are all critical of the management agreement itself and not anything Magner did.
Dick Hajjar is the "primary complainant," according to Special Investigator Mary Jaglowski. In her affidavit Jaglowski said Hajjar "alleges the Agreement is unconscionable."
The agreement was signed by Magner and Joseph Sauer, then president of the Danbury Cemetery Association, in 1998.
The affidavit includes criticisms of several of Magner's actions, while acknowledging the agreement provides for him to do each of them:
Magner's ability to appoint board members
The failure to separately report the cemeteries' sales or expenses
That the association pays interest and dividend income on its endowment to Magner
Checks go to Magner instead of the association
Magner sells goods and services
Blumenthal's office also gathered evidence that Magner misused the association's tax-exempt certificate. According to Blumenthal's press release, Magner made $28,328 in improper tax-exempt purchases.
If this allegation is true, at Connecticut's 6 percent sales tax rate, Magner would owe the state $1,699.68 in taxes, plus applicable fines and penalties.
"Magner allegedly diverted cemetery funds, dodged sales tax and illegally leveraged his power on the cemetery board," Blumenthal said in a press release. "This lawsuit – the first pursuant to the new cemetery statute – seeks restitution, civil penalties and a court order stopping Magner's alleged law breaking."
The tactics used against Magner and other small business owners have won Blumenthal notoriety as the second-worst attorney general in the country, according to the Competitive Enterprise Institute. In 2007, CEI ranked Blumenthal the worst in the country.
Miron was able to avoid Blumenthal's standard toolbox of tactics.
As Boss Tweed's Tammany Hall colleague George Washington Plunkett would say, "I seen my opportunities and I took 'em."