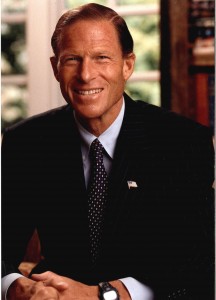 Editor's Note: On Friday, October 22, Raising Hale published a story regarding the Attorney General's handling of two similar cases entitled "Did Blumenthal go easy on a thieving party boss?"  The Attorney General's office responded to the story with this letter to the editor.  (PDF)

Dear Editor:
Your recent story concerning the attorney general's lawsuits against Richard Miron and William E. Magner, Jr. contains significant factual inaccuracies and distortions.
The office sued Lakeview Monuments of Bridgeport and owner Richard Miron, pursuing Miron aggressively when he failed to provide gravestones to at least 73 consumers. The attorney general fought vigorously on behalf of consumers, ultimately achieving a settlement that provided full restitution — every penny back — to all 73 consumers. This agreement provided more prompt relief to consumers who might have been forced to wait years from litigation tied up in court.
In another case — against William E. Magner Jr. and his cemetery management company — the attorney general filed a lawsuit after Magner allegedly misused cemetery resources for his own private gain and after he failed to deliver gravestones and other services to several consumers who paid deposits or in full.
After Magner accepted and deposited consumer money into his own company's bank account, he never provided products and services. Magner was also criminally charged for his conflict of interest in serving as both the paid cemetery manager and as a member of the association's board of directors.
Magner accepted accelerated rehabilitation on the criminal charge, but the attorney general's civil lawsuit against Magner continues because he has not paid back any money owed to consumers. Consumer redress remains the attorney general's paramount goal.
As in the Miron case, we are hopeful that a similar outcome can be negotiated with Magner — providing full restitution to all consumers. If Magner indicates that he's willing to pay full restitution, this office would accept it. Until such a resolution is offered, this lawsuit on behalf of consumers will continue.
Sincerely,
Tara Downes
Spokesperson
Office of the Attorney General