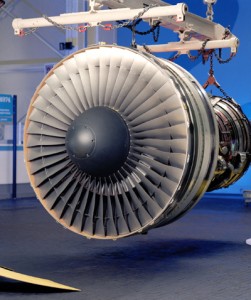 Pratt & Whitney announced plans to close two Connecticut facilities, the Cheshire Engine Center and East Hartford's Connecticut Airfoil and Repair Operations, in July 2009. The company planned to move the work to Georgia, Japan and Singapore.
Pratt & Whitney then lost a lawsuit and subsequent appeal which forced it to keep the two facilities open until its current union contract expires Dec. 5.
In August, Pratt & Whitney announced 38 layoffs at the Cheshire facility as part of a plan to reduce the staff there by 129. The union is also contesting the layoffs.
Why did Pratt & Whitney make the decision to move these jobs out of state? An email Q&A with company spokesman Woody Woodyard reveals two reasons: geography and costs.
What factors make the new location preferable?
Excess capacity across Pratt & Whitney's overhaul and repair network led to the closure decisions in 2009.  The impact of the global economic downturn was exacerbated by customer-specific losses in these two businesses that resulted in volume reductions of over 40% in the Cheshire Engine Center and Connecticut Airfoil Repair Operations.  Strategic factors considered in the decision making process included:
Addressing excess capacity in the network and in particular the projected 40% reduction in volume in the Cheshire Engine Center and Connecticut Airfoil Repair Operations
Improving utilization of our remaining overhaul and repair facilities
Establishing a stronger presence where markets were expected to rebound most quickly (Commercial passenger and freight traffic has recovered more quickly in Asia and is projected to continue to grow faster than any other market)
Creating a better regional alignment within our overhaul network (The decision placed the engines that serve long-haul routes on the Pacific rim where they operate and consolidated U.S. military and engines that serve shorter, typically domestic routes here in the U.S.)
Improving the overall cost structure/competitive position of our operation (The cost to operate our shops in Conn. is 40% to 170% higher than costs in comparable facilities.)
These closure decisions were the subject of litigation and we will comply with the court's ruling.  These moves will be subject to negotiation during contract talks later this year.
Follow-up question: Is there a way to break down those increased costs into categories?
We are not prepared to share a categorical break down of the increased costs to operate our shops in Connecticut.  However, we continuously review operating costs with the goal of remaining viable and competitive in the marketplace.  This entails identifying ways to improve the overall cost structure/competitive position of our operations.  In this instance, the overall cost to operate our facilities in Connecticut is higher than costs in comparable facilities.
What would Connecticut need to change to prevent similar moves from happening?
The State cannot be expected to address the market dynamics that drove our strategic considerations.  States can, however, work to secure a competitive environment for employers through an executive and legislative agenda that preserves flexibility and a low cost infrastructure.
I am also interested in why Pratt & Whitney did not accept the $100 million from the state to remain in Connecticut. What is the cost/benefit analysis that shows $100 million is not enough?  What amount would have made up for the cost difference?
While we appreciated the State's efforts, the incentives – publicized as $20M for five years – would have produced less than $5M of EBIT [earnings before interest and taxes] improvement annually.  The State's offer provided $10M annually of assistance an unrelated project we had not decided to pursue and lifting the cap on and R&D tax credit which would have had a cash flow, but not EBIT, impact. The dramatic gap between an alternative that better matched the direction of the industry and that resulted in a far better cost structure for long-term competitiveness led to the decisions to close these two operations.
For more background on this story:
Pratt & Whitney Machinists Union Files NLRB Complaint Over 38 Layoffs At Cheshire Plant
Governor Rell Unveils Proposed State Assistance to Save Pratt Jobs